For anyone who has the time and necessity to spend hours studying the current Chester FC status (just me then?) there were a number of ominous pointers that I identified pre Bank Holiday. Thanks mainly again to funding from their very public benefactor, the squad are contracted for four training sessions every week including Monday morning and Friday morning. Time to work together as a unit to identify improvements from the previous fixture, time for set pieces, defensive organisation and the other minutiae of a very-close-to-a-Football-League-training session.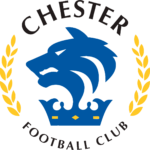 Chester supporters spoke approvingly of improved fitness levels on the pitch and notably time-added goals scored in 3 of their 6 matches. Neither in that period had they conceded a goal in open play. The central defensive partnership of Grand and Livesey were previously a pair at both Salford and Barrow and are now almost joined at the hip. Their central midfield duo were in place last season and the strikers too, though an injury crisis held them back. The management, now in their second season, with 6 of their Salford favourites in the squad, added just a handful of extra players in the summer, including a couple of ambitious names again allegedly financed by benefactor Murphy. Their multi-trophy winning Academy team was filling squad gaps easily. Witness the late comfortable looking cameo from young Murray, whose mother is still wondering when he will return from the sweet shop.
All gave me a picture of an ambitious, well-settled club and their unbeaten run was not a surprise. Need a development centre? No problem, here's £300k to kick it off. Club bars need a re-fit? Here's a million to help. Chester is not far off Salford level funding, ironic given the multiple Salford connections. I always fancied them to beat Hereford, even after resting their top goalscorer.
The margin of victory dismayed me and at times the visiting team looked distinctly second best. And in so many ways, they are, with three senior players having to support the reluctant stand-in Gaffer with coaching and assistant manager pointing. An absolute welter of new players, some of whom still haven't made their competitive debut, were flung en masse into the manic August schedule. While Chester players have regular get-togethers, Hereford FC will manage only 5 training sessions all month. No time for in-depth analysis or set plays, space only for the absolute basics and onto the next game. Otherwise, our unsettled squad members have to make their own fitness arrangements in Exeter, Cardiff, London, Coventry, Sutton Coldfield and wherever else our players lay their heads. Little wonder they play like strangers sometimes.
And yet the picture is nowhere near as black as the banshee wail of noise believes. Hereford FC are in joint sixth spot, having only lost to sides in second and third place. We are at the fag end of August with help flying in to make everyone happy through a fixture-light September. We're going backwards. The players can no longer manage their basic craft. The manager should leave, etc, etc.
Funnily enough, Stockport County supporters said the same a year ago. After 7 games in 18-19, they had amassed 8 points, with 3 painful defeats. They finished Champions. Also, after back to back defeats in August, Spennymoor manager Ainsley had his abilities questioned. "All that money spent – its wasted Ainsley". Only 6 points secured in August. Spenny went on to finish third. Conversely, Chorley won their first seven games straight and still ended up sweating in the Play-Offs.
In season 17-18, in August Bradford (Park Avenue) shockingly lost 5-0 at home to York. And followed that with a 3-0 mauling by Spennymoor. Their players too were useless, overpaid, Sunday footballers etc. They went on to lose 13 more League games… and reached the Play-Offs.
One season earlier, FC Halifax secured 11 points from the first 7 fixtures. They too had lost twice in a row amid much supporter rancour. Their final position was third.
National League North is a marathon not a sprint.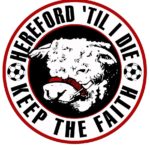 Keep the Faith.
By Simon Wright