Following back-to-back victories Hereford next face Brackley Town at Edgar Street in the Vanarama National League North.
Brackley have very much been a bogey side for the Bulls, but provided the home side maintain a positive approach there is no reason to suggest the Saints will continue their stranglehold on Saturday. Here is your comprehensive preview from the Talking Bull co-editor Simon Wright.
There is something about Brackley which is dispiriting. They are, of course, an infamous crowd reducer in our League, responsible for slightly lowering average gates across the piece. A decent side to be sure but this is a club in a low-key town only just creating any kind of history, an outfit widely thought to be living beyond their means because of a benefactor. Latest published accounts show a cash-rich company, very unusual for this level of football. There was mention of a seven-figure sum in "reserves."  Hereford-born Allan Leighton owns two thirds of Pleasure Media (trading name Brackley Town FC) so it's widely presumed he is the money man. Leighton Chairs 6 other companies, including the Canal River Trust and the Co-Op.
The Reds and Whites' over-familiarity with the Shire faithful doesn't help, neither up to now the way they've outplayed and outclassed us in League and Trophy. At their ground, a sending off completely knackered our reasonable start and was later followed by another dismissal late on. That put the tin lid on a bad day at the office for Beadle's team.
Another lowlight of last season was the midweek return game against the Northants mob. The joint lowest Edgar Street gate reluctantly turned up, expecting nothing and that's what we got. The second half was played out in resentful silence as our bunch looked so naive against their old lags.   Best not to even mention the Trophy, which was really more of the same.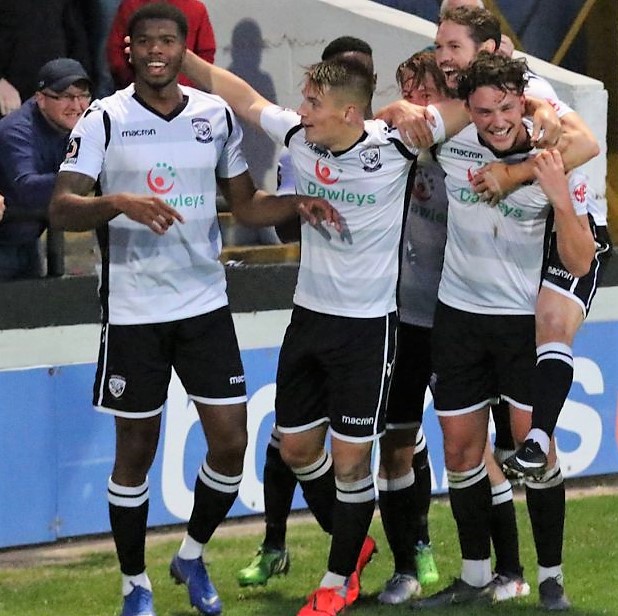 Fourth time lucky? Sounds a slightly desperate phrase but Hereford FC is now a massively reinforced X1, with half a dozen captains and in-depth Step 2 know-how on tap. Looking back at the starters and subs from the away game eleven months ago, Brackley have nine of those 14 players still available for selection, Hereford just one. The result will measure our progress as will all our early games. Our first 3 home games are all against opponents who finished in the top eight last season.
Our visitors have a hard core of 7 players now in their 4th or 5th season. That is such a big factor in bonding and knowing each other's playing style. Among that hardcore is regular frontman Lee Ndlovu, midfield pest Jamie Armson who averages a dozen goals per season and defensive main man Gaz Dean.  Traditionally, Brackley recruits came from Nuneaton or Solihull or both but these days they've had to partly look elsewhere.
They've added 4 players to what looks like a slim first team squad. Two of them are strikers, the experienced Dan Holman and Tendai Daire.     Holman sits within the been-there, done-that group. He's 29, 150 goals scored mainly at a higher level. In 2016, he won the National League Golden Boot. Until 2018, he'd not played lower than Step 1 when he dropped down to Kettering, probably needing to prove himself again after two tough fairly barren years. He did well for the Poppies scoring 15 times in 25 appearances.
Tendai Daire is the far more interesting signing under the heading "we've got to give him a go before a local rival does."   He hails from Zimbabwe where his exploits continue to make news, even while with his former club Lutterworth Town.   "T Dog" (as he was nicknamed) scored 182 times in 142 games, a ratio that even Johnny Mills can only dream about. With Daire paired with two other goalscorers, Town enjoyed 3 promotions in 4 years.   But even now. they've only reached Step 5 so there is an obvious gap to be bridged.
Brackley now favour a 3-5-2 formation as opposed to their previous 4-4-1-1 with Ndlovu and Holman starting up front. The pair scored only once between them in their first 5 games.
Their other recent signings are both defenders. Kelvin Langmead was dislodged from Harrogate because they signed Connor Hall …from Brackley. Langmead is 34 and played over 300 times in the EFL. If his name sounds familiar, that's because the vast majority of those appearances were for Shrewsbury Town.   There is a cure, apparently.
Thierry Gerard Audel is very French and very well-travelled.   Brackley is his 13th club, split between 5 countries. Big bloke, 6 foot 2, who never stays anywhere long. San Marino, Pisa, Barrow, Macclesfield etc. Strange old life, always on the move, no chance to put down roots.   What do journeymen footballers like him do when they're too old to carry on?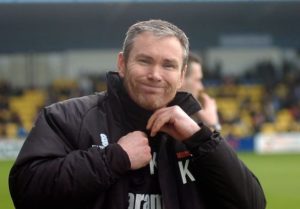 Gaffer Kevin Wilkin previously managed the reformed Nuneaton Town and took them to 3 promotions. He then took over at Wrexham but reaching the FA Cup Third Round and the Trophy Final wasn't enough and he was sacked the day after Wembley. They have high expectations in North Wales. Since his taking over in September 2015, Brackley have enjoyed their best-ever seasons under Wilkin. This guy is some manager.
There does come a time when reaching the Play-Offs is just not enough, as we know ourselves from our United days. Two years ago, Town lost the Play-Off Final, last season they were defeated by Spennymoor in the Semi-Final on penalties. Brackley just needed to put away the last of their 5 penalties to win. It was missed and so was their next one and they were out. That is one horrible exit. Pressure is on to become more consistent and go up automatically. By the way, the attendance against Spenny for their biggest home game of the season was 1,271. Maybe they are better off not being promoted.  Their home attendances so far are 485, 500 and 465, not good for them and certainly unlikely to lead to much queuing at the Edgar Street away turnstiles. Brackley went on to lose 2-0 at Leamington, where they struggled against the Brakes' aerial threat. Followed by another defeat (1-0) at York, an unimpressive home draw with Kings Lynn and a narrow 1-0 win over Alty where the visitors missed a penalty. Modest form and a lack of goals scored so far.
Although this fixture is at Edgar Street, the Brackley Board could be forgiven for having their minds elsewhere, particularly the scorched patch where their clubhouse, toilets and kitchen used to be. That's a result of a fire during the summer. No suspicious circumstances but it's a headache all round. Insurance will take many months to sort out and the club already know insurance doesn't cover all the costs. They've resorted to bucket collections to help cover the shortfall, a move which doesn't feel like a bankrolled or cash-rich club.
Simon Wright