Over 600 Hereford supporters made the relatively short trip to Leamington this afternoon to watch the Bulls secure another away point, taking them eight points clear of the relegation zone. Indeed, this 2-2 draw extended the Bulls unbeaten away run to four matches, chalking up eight points from those games. Not too shabby that!
The team currently sitting in the third relegation spot are Ashton United, and that's where Hereford travel to next weekend. Hopefully, another large travelling contingent will provide the Bulls with more positive commitment from the side lines. It's certainly helping the young squad as their current form would indicate. Of the last 10 league games, Hereford have won 4, draw four and lost only twice.
Compare that with Ashton who have won 3 and lost 7 of their games, and you can see why a positive result for Hereford next weekend could be vital. Make sure you are there if you can.
Ashton United FC
Ashton were the bookies favourites for relegation since last summer.  As we highlighted before the Edgar Street game, Ashton aren't even the biggest club in their own small town with neighbours Curzon clearly more successful in recent years.  Like ourselves, Ashton are newcomers, having won the Northern Premier League Play-Offs last year after five years of trying. Inevitably, by doing so, they became noticed and their best players waved goodbye.
Ashton United are the oldest senior club in the town by a margin of 85 odd years. They were founded way back in 1878, compared to our recent opponents Curzon who are only 55 years old. However, Ashton, then known as Hurst FC, folded in 1892 and didn't reform for 17 years so their full history is debatable.  This is a consistently low-profile club with no great history to speak of who are playing only their second season at this level.  They did have Dixie Deans playing before them before World War 2 but that's about the limit of their brush with the big time.
For our gallant few travellers, this is the second visit this season to the market town of Ashton Under Lyme. Hopefully, the journey won't take 4 hours this time…  Ashton itself is a bit smaller than Hereford with a 45,000 population but it is an intergral part of Greater Manchester where town boundaries are blurred. Just to place it for you, Ashton is close to Oldham, Stockport and Manchester itself.  As their manager admits, the Robins are at the back of the queue for football talent, but it is a big pool to pick from. There are 15 other pro or semi-pro clubs located within ten miles, two of who are in the Champions League.
The Robins home ground at Hurst Cross is one of those venerable old grounds in use forever and they're always in the North. Think Wigan's Springfield Park or maybe Chorley.  Or back in the days when we had to endure Steve Bull lumbering around in our shirt, Leigh RMI FC.  Big open terracing, huge adverts for Uncle Joe's Mint balls and cracking pie and mushy peas on offer.  Ashton has in theory a capacity of over 4,000 with their sweeping uncovered terraces.  There is cover for 750 which includes the Sid Sykes stand with its 250 seats. This is a vintage structure with lots of pillars in the way. The rest of the cover is a small terrace on the opposite touchline. If you think that doesn't sound enough provision at this level, you're quite right. Ashton don't have their Grade B licence yet.  They need grants for rebuilding but can't get them until the local authority agrees to extend their lease.  But, of course, given Ashton's League position, this might not matter.
Thankfully, segregation is rarely enforced at Hurst Cross. The ground is surrounded by houses whose occupants don't have to pay to watch games.  For anyone interested, the Robins do have one of those delightful programme shops which sells lots of anything, rather like Bradford and Leamington. As well as raising money, those huts bring life to a club.
Ashton only have a small car park but given their attendances, nearby street parking is never a problem.  If you're a Disabull, the word is that access is limited. Contact the club via email secretary@ashtonutd.com to discuss needs.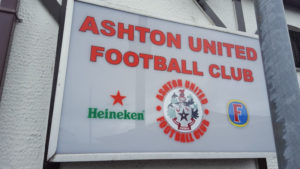 There is a large club house which welcomes visiting supporters. Real ale is served and served right through the game which might come in very handy.  In theory, there are two pubs nearby – the Hare and Hounds right outside and the Royal Oak in Nook Lane. Does seem as thought one or even both are closed. The nearest Spoons, which is Camra-listed, is the Ash Tree in Wellington Road, which is about a mile distant.
Ashton's average gate is sub 400 even though turnstile charges are modest.  Three times the Robins endured gates below 200 and what a grim experience that must be. The saving grace for their attendances is the proximity of so many Step 2 clubs – in addition to Curzon, there's Altrincham, Stockport and FC United, all within 10 miles.  The recent 1-0 victory over FC United saw an attendance double their average for what was their first home win since November.  You might imagine the Ashton-Curzon derby might have pulled in a big Bank Holiday attendance. They didn't. Attendance was just over 400.  Though you must acknowledge Ashton's poor home form doesn't help.  As of January 22, they have only gained 12 points at home and have conceded the most goals in the Division.
United are so low-profile, it's hard to find anything much about their squad. Looks like the usual mix of youngsters and grizzled veterans.  I'll just mention a few recent arrivals. Bohan Soloman Cheidu Dixon is a 6-foot-4 midfielder now with his 14th club in ten years.   The January new boys include six-foot striker Jamie Reed. He's another club collector with the Robins being his 17th, including sides in Ireland and Australia.  In contract, Ashton took 18-year-old George McMahon on loan from Burnley last month.  His predecessor presumably had backache? Manager Jody Banin fits into the grizzled veteran category. Played for at least 15 clubs and is in his third spell with Ashton. He's also director of a football coaching business in Warrington.
Comments from the FC United manager provides some insight into Ashton's playing style. Said he "Ashton are set up to play direct. Percentage football based around set pieces. "
Getting There
By Road: 288 miles return (OL6 8DY). Leave M60 at J23, take A6140 to Ashton.  Keep on towards the town centre. After passing Ashton railway station, at second set of lights bear left onto A670 towards Mossley. Continue along this road as it becomes Mossley Lane and turn left onto Queens Road. At next main traffic lights, left onto Kings Road and then first right for the ground.
 By Train: Ashton station is less than a mile from the ground and is very handy for the local Spoons.  You can go to the ball from Hereford, but travel takes 3 hours with changes at Stockport and Salford.  Travel times much the same from Euston. There's scheduled industrial action that weekend so do check carefully before you travel.
By Coach: Visit Hereford Awaydays Facebook page