I have fond memories of a visit to Bradford on 29th December 2007 when we beat Bradford City 3-1 at Valley Parade with Trevor Benjamin giving his finest ever performance in a Hereford shirt as he shared the goals with Dean Beckwith and Theo Robinson. The crowd numbered over 13,000 but when things didn't go according to plan the home fans turned on their own team, which benefited us enormously. Unfortunately, Big Trev was involved in a road traffic accident on his way home from the game and never quite hit the same levels of performance again, not that this prevented us from celebrating promotion at Brentford the following May! 
I remember Yorkshire Bull Steve Walshaw introducing us to a number of Bradford's pubs and we even stayed on to eat at a local curry house before making our way home.
Some of those pubs are still going strong and once again Simon Wright has been doing some research, with most of his suggestions also in the GBG.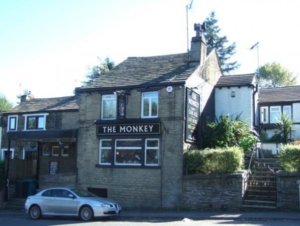 The nearest GBG pub to the ground is the Monkey at 931 Great Horton Road, BD7 4AQ, a drinkers-pub offering three changing real ales, usually from local breweries such as Junction and Salamander. It has a separate games room with a pool table.
The Fighting Cock at 21-23 Preston Street has an enviable reputation for the quality of its ales and its unpretentious, value for money lunchtime food. Described as a bit rough and ready it serves a dozen real ales, mostly all Yorkshire brews, plus real cider. It's situated in an industrial area west of the city centre but has something of a cult following and is invariably busy.
Jacob's Beer House is in the city centre at 14 Kent Street, BD1 5RL and has an open plan layout with a snug to one side. Here there are nine hand-pumps offering a changing range of beers from independent breweries and always offering some darker ales, the reviews for which are universally good. There is also real cider but no food.
I seem to recall visiting another city centre pub, the Corn Dolly, at 110 Bolton Road, BD1 4DE back in 2007. As I remember it was busy but comfortable and it currently offers eight beers with Everards, Black Sheep, Timothy Taylor, Ossett and Moorhouse's often represented. No food.
One pub that Steve definitely took us to was the New Beehive Inn at 171 Westgate, BD1 3AA, an Edwardian pub with distinctive gas lighting that is on CAMRA's national inventory of historic pub interiors. There are usually four changing beers plus real cider, but it's the building itself that is the star here. You can order a curry from the Indian restaurant next door and eat it in the pub if you wish. There's even accommodation available if anybody is making a weekend of it, although it's not in the most salubrious part of town to be honest.
The Record Café at 45-47 North Parade, BD1 3DH sounds particularly intriguing, a café style pub with an independent vinyl record shop upstairs! Opened in 2014 the pub serves four real ales from Yorkshire breweries such as North Riding and Resolutions plus real cider and a whole host of 'craft' beers in keg and bottle. It serves charcuterie style food specialising in hams and cheeses. Reviews are slightly mixed but largely favourable. If you fancy something out of the ordinary this might be worth a try.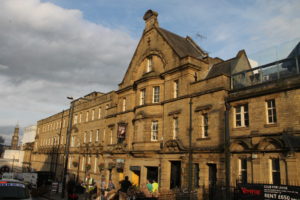 Bradford also has a Wetherspoons, the Sir Titus Salt in the Windsor Baths complex on Morley Street, BD7 1AQ. As the address suggests the pub is housed in a former swimming bath and is a typically impressive Wetherspoon conversion and is named after a local industrialist and philanthropist. GBG listed and with ten hand-pumps this is again likely to be one of the better examples of Tim Martin's empire.
By Ian Mann – The Hereford Hophead