The Hereford squad need to put to bed the gut-wrenching penalties defeat to Tamworth in the FA Cup on Tuesday with an instant comeback performance at struggling Bradford at the weekend.
Russell Slade maintains he will learn a lot about the mentality of his playing squad this week ahead of the Bardford clash, and is expecting to see a positive response. He is challenging some of his squad to come up to the standard he expects.
Simon Wright looks ahead to the match at the Horsfall Stadium on Saturday.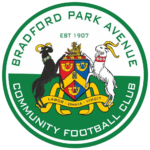 Bradford (Park Avenue)
Since the last time we visited, Bradford with Brackets have changed their manager twice. Mark Bower resigned in the summer. His playing budget was markedly reduced after concerns about a rampant overdraft. Thus there was a major exodus of Bradford's senior players from January onwards. In came Garry Thompson who lasted 2 games, which were both lost heavily and out he went. Interestingly, his replacement Marcus Law was made public the same day. He lasted only a few games before Mark Bower and his assistant Danny Boshell agreed to return in late September. They must have great faith in their abilities.
Regardless of who is in charge this week, the same difficulties remain with a limited budget and no-one wanting to join a struggling club. The six new players who registered in September reminded me of Myrie-Williams. People who superficially sound impressive, until you do a little digging. People who aren't going to be on the books for long or frankly add much to the squad. Such as Myrie-Williams (5 games, no goals for Gloucester in 19/20).
The new talent includes defender Josh Heaton, now at his 14th club in 5 years, including 3 this season. Last season, St Mirren paid £75,000 for Heaton but released him on a free. Another familiar name is midfielder Kemy Agustien, with his 11 clubs in 5 different countries in 5 years. Then there's central defender Keith Lowe, who is a former Bull. But he's 35 now and you do wonder why he's had to wait two months into the season to get a club.  Riccado Calver, having served jail time for assault this year, was a gamble but left 3 weeks after he arrived. Whether the new manager will be impressed by the remaining incomers is questionable.
Results did improve to the extent that Bradford were losing by fewer goals. Briefly. Then came their 8-0 slaughter at Brackley. After 12 games, their goal difference is minus -29.  Their Academy side look equally grim. They've played ten, lost ten in their Northern U19's League with a minus 49 goal difference.
Park Avenue have yet to win a home game; they drew with Blyth (admittedly no great achievement) and Spennymoor.
There were defeats by Guiseley, Farsley, Kidderminster, Telford and worse of all, losing 4-2 at home to Step 3 Morpeth in the FA Cup.
Timing couldn't be worse for the brackets club who, through their #ProperBradford campaign, were trying to boost their attendances. They dropped their prices and tried to highlight a different football experience. To quote the campaign organiser:
"We are a small, hard-working National League North football club. We can offer a very different experience to what our friends and rivals can offer and we wanted to highlight the positive aspect of that. Our famous Chips and Gravy, Real Ale Beers, Volunteer culture, and the match day experience of being able to get up close to the action, mingle with home and away supporters, and meet the players in the clubhouse afterwards, are all fantastic assets and we wanted to highlight them and let more people know about how good non–league football is for a day out."
That's a fairly generous interpretation of visiting the Horsfall Stadium. The people of Bradford literally aren't buying it. Despite the cheapest door price in the Division and having already played their two nearest opponents, the average gate is down 20% to around 400.
Bradford, open brackets Park Avenue close brackets, play inside an open and windswept 6 lane athletics track on the edge of the city, next to a cemetery. Brackets matter in Bradford, hence the careful pronunciation. I am assured some supporters boycotted because the club name lacked brackets. Now they have them back, some fans returned, though have probably left again since.   The club do try to put some lipstick on their rented pig of a ground, on which they are close to agreeing a 35-year lease.
Unlike some, Park Avenue do serve locally sourced real ale in their bar. Decent stuff too. Whilst the décor is a tad basic, this is a friendly, welcoming place for supping. During our last visit, there were football book honesty bookshelves in one corner with a lot of decent reads going very cheap. Ridiculously cheap. Next to that is a veritable industry of a catering hut. All basic stuff but well produced and served with enthusiasm. Comically, there is a notice which states Ice Lollies are available for £1. They are not but their marker pen was indelible so they are literally stuck with it. After Kiddy, this is my favourite Step 2 eaterie.   Do bear in mind there are no alternatives nearby. No coffee shops, no cafes, just a couple of fairly indifferent-sounding pubs which probably aren't worth the uphill walk. Better to stay in the ground and support a struggling fellow club.
There's also a room purporting to be a club shop but is really a garage size football merchandise emporium. Utterly fascinating. Just as an example, I found a small pile of WBA 1960's reserve programmes in one dusty corner. Not massively rare but not common either, certainly not in West Yorkshire.
These are the plus points of the Horsfall and whether that compensates for a frankly uninspiring and silent venue for football watching is up to you. A realistic chance of a positive result does help. Due to international call-ups, Hereford will have a weakened squad for the Horsfall encounter and a more tired one. While the Bradfordians have a fortnight off, the Bulls have played 3 games. I fear another grind game coming up.
Most of Bradford's faithful sit in the seats, the 1,800 mainly covered Main Stand. There are pillars at the front so sit halfway back. The actual seats used to contain cricket-loving bottoms at Lords. The standing areas either side of the stand aren't standing areas. Supporters must sit on the bare concrete, no crush barriers, you see.
At one end is a tiny covered standing area, known locally as the Bus Shelter End which is for home supporters only. Otherwise there is no segregation. A new feature this season is the chance to stand along the perimeter fence inside the running track thereby much closer to the pitch.
Admission is very cheap. Adults £10, Concessions/ students £8, Under 16's £2.  Season tickets are £100. These prices were forced upon PA to a degree with their neighbours City continuing to offer £100 season tickets for professional football.
There is a car park behind the ground or there is street parking along Cemetery Road, which bizarrely is nearer the turnstiles.
Getting There:
By Road: (365 miles return) It is not a difficult journey but, after the cup exit, the trip may test the resolve of some Hereford supporters.
By Train: Possible from the Shire via Manchester and at 4 hours each way, is like the road journey. From there, you'll need a bus as the ground is 2.5 miles outside the city centre. From London Kings Cross, travel time is 3 hours.
By Coach: Visit Hereford Awaydays Facebook for info. Reg is running some transport. Departure from Radfords at 8.30am with a stop in Cleckheaton.