Ah, board games! We all remember them right? Christmas at your relatives' house. Playing Monopoly. Your eight-year-old cousin bawling their eyes out because they landed on the Mayfair hotel. Or maybe you played Risk, and remember that after three hours your Dad and Auntie were still somehow locked in a titanic struggle for Asia? Board games are on the rise again and these old 'classics' don't cut the mustard anymore.
The Football Game is new, different, and brilliant.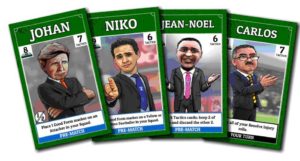 The Football Game is about club management. It's not a slow-motion match simulator, nor a complex afternoon-eater – in 75 minutes, you and mates or family will each manage a football club through an entire season. The game brings out the funny and scandalous side of the sport: it captures the rivalries, the excitement, the emotion, and the occasional madness of football both on and off the pitch.
You'll win the game by exceeding the expectations of your fans and chairman; so if you're a 'top six' club you must challenge for the title, while newly promoted 'yo-yo' clubs can win with a mid-table finish!
The stars of the show in The Football Game are the 80 footballer characters (such as the  Wing Wizard, the Ancient Attacker, the Devious Diver, the Calamity Keeper). Each has a colour, a position and an ability rating that will influence when and how you play them. You'll have to dip into the transfer market to build a squad with strength and depth, pick the right first team at the right time, and mastermind the play of your Tactics cards.
You're never left waiting for action the Match Day roll each turn affects all Clubs. Some players will do well, and others will do badly. So just like on a real match day, teams will rise and fall on the league table and everyone watches in joy or despair as they find out how they've performed.
Tactics cards can be the difference between stealing the title for some, and avoiding relegation for others! These cards allow your footballers to pull off feats such as elegant interceptions, lucky deflections and wonder goals to increase your match score. You can also nobble other Clubs with attack cards that make footballers miss 'sitters', score own goals and more.
Rolling events; you may discover a youth team super-star, see billionaire buyouts, training ground bust-ups, footballers rebellions, manager egos, mind games, nightclub incidents and many more – fifty different events may make or break your season! Your best plans might also be torpedoed by the gods of Injuries and Knocks.
The Football Game is founded on a love of 'the beautiful game', humour, and stellar artwork by Rob Gauld-Galliers (art director of Thomas the Tank Engine). Family team Mark, Simon and Jo Pearson have been developing the game for 3 years, and are looking to crowd-fund the game via Kickstarter starting in late September. During the Kickstarter campaign, you can secure a copy of the game (for a £5 discount on RRP!) by going to 'The Football Game – Board Game' on www.kickstarter.com and backing the game at the 'Season-Ticket Holder' level or above.
Win our competition to be in the game!
One fan of Hereford FC will win a free 'Executive Box' copy of the game.
One fan nationwide will also feature in the game as a Footballer or a Manager.
To enter, simply complete this sentence: 'I love football because…' and send it to us with your Club name. You can:
Tweet your answer to @MHP_LonBoardCo with the hashtag #TheFootballGame.
Post your answer on our Facebook page (Facebook.com/LondonBoardGamesCo).
Email your answer to mark@londonboardgames.co.uk.
Entries are open until November 27th 2016.
Winners will be announced and contacted by November 30th 2016.