Wimborne Town FC
By Guest Contributor –  Matt Dixon
A recycling company have the naming right to Wimborne's ground so what was once the intriguing "Cuthbury" is now the more pragmatic W&S stadium. You'll find it next to a hospital on the edge of this affluent town of 15,000 people.
The ground is intriguing with the most spectacular side to side sloping pitch I have seen for a very long time.  With other clubs refused promotion because of sloping pitches, I do wonder how this one has survived in Senior Non-League.
Let's be truthful, this is a very long trip for Shire folk. I've done it many times from the opposite direction and its hard yakka.  The few determined crew who followed United to Poole during the expunged era two years ago will remember the endless miles on not terribly fast roads (Poole is 8 miles from Wimborne).  With the distance and the financially taxing eight away Saturdays out of 8, our numbers will be small and there is no danger of tickets being necessary.  Expect to pay the pretty-standard-for-this-League £9 for adults or a fiver for concessions with a token £2 for u-16s.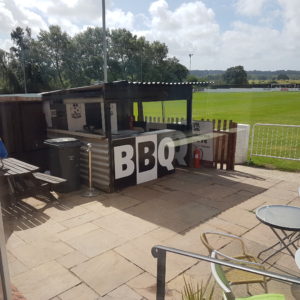 There is room for all here. Let's call the 275 seats – a mixture of normal plastic and benches – quirky.   Our more vocal followers will be enthusiastic about the narrow covered standing areas. They run the whole length of the main stand side plus full width behind one goal.  Just in case you are confused or have tried too much falling down water, the club name is written large in the back wall.   The other two sides are barely developed.
Loads of parking here chaps. Tally Ho into the 40 odd spaces behind the main stand for early fliers while the rest of the chaps can buzz into the overspill area – the training field nearby.
Our 'Disabulls' fans are properly considered with adequate parking behind the main stand, flat concrete pathways and a disabled toilet. There may not be many on this trip but facilities are available if they do.
Who wants a beer?
Try the Clubhouse first. Its bijou as usual but the welcome is very friendly. I could hardly tear myself away during my visit.  Sky Sports here! We're promised proper beer to add to the resident draft Guinness, two lagers and Cloudy Apple cider.  For interesting refreshment, visit the BBQ by the corner flag. An artisan award winning butcher Keatings supply the meat for the burgers and hot dogs. I do wish more clubs could be this imaginative!
Lots of local pubs to pick from.  The Minster Arms (BH21 1JS) is a dry-led gastropub so if you're hungry and your wallet is well stocked, this is the place.  Nearby is a drinkers pub, the Green Man. Now bear in mind a refurb is underway before our visit so not all the previous sold goodies may be available but look at this lot – Wadsworth 6X, Wadsworth IPA, Wadsworth Swordfish, Amstel, Fosters, Guinness, Flowers, Stowford Press and Westons Old Rosie.
In the town centre seek out the CAMRA approved Taphouse micropub (BH21 1LT) serving 8 local ales plus ciders. Proper beer heaven…  If you are supping in any local pubs, look out for Wimborne FC coasters as they can be exchanged for a free hot dog at the ground.  Shire foodies should get personal to the Tickled Pig (BH21 1NF) deli and restaurant, rated best restaurant by Trip Advisor (out of 79 in Wimborne).
But do be careful walking to or from the town centre. There is a 50-yard narrow lane to negotiate around a blind corner with no pavements. Take care out there particularly if chairbound or had a few.  Or chairbound and had a few.
By Road 129 miles (BH21 4EL) Take a sat nav!  M4 over Severn Bridge. Then A35, A350.  For the last few miles A354, then B382 for 7 miles. Right onto Abbot St. Turn left. Slight right at Vine Hill, turn right towards Cowgrove Road and ground on left. Allow minimum 3 hours driving time.
By Train:  Another one for the masochist.  A mere five hours to Poole with 3 changes and a bus replacement. Throw in an 8-mile taxi journey.  Then do it all in reverse getting back to the Shire after 11.00pm.  Just go with Reg.
By Coach:  text Reg 07958 176937