More in-form visitors visit Edgar Street…
Simon Wright tries to be optimistic.
"Oh Pollock… "or a similar phrase was the reaction of Boston supporters to the loss of their top goal scorer Scott Pollock to Yeovil Town this month.   The midfielder has 14 goals so as usual in come clubs with deeper pockets.   The Pilgrims are thought to be one if the best funded clubs in our League and made an offer to their player already under contract but it wasn't enough. Pollock was off to Somerset in exchange for a transfer fee.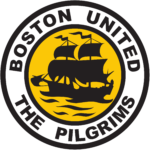 United could have recalled striker Jaanai Gordon from his loan at his latest club Nuneaton but didn't bother.  Boston aren't short of resources and it does help when a loan of £1.6 million from the owner is written off.  Club owner and chair David Newton is currently in discussion with builders to add a sports hall, gym, bar, cafe and soft play area behind the South Stand terrace – hopefully within their £3 million budget.  in their last accounts, the Pilgrims showed a small profit.  Interestingly, the ground is owned by a seperate community trust which keeps it out of the hands of any future dodgy owner.
If you played word association with Hereford supporters and ask them when they connect Boston to goals, they'd surely want to talk about October 8th 2022. On that day, the Bulls, who aren't known for their prowess in front of goal, had a mad 14 minutes in Lincolnshire when they found the net 4 times.  The lucky folk who travelled were pinching themselves. The now departed Scott Pollock did score twice but this was a 4-2 cruise for the visitors.  Take a bow Aaron Amari-Holloway, Orrin Pendley, Jack Evans and Tyrone Barnett its periods of play like that which keeps the turnstiles clicking.
The Pilgrims have impressed their away form, picking up 11 points out of the last 15. They buried Blyth, choked Chorley, knackered Kiddy, got salty at Southport and leaned on Leamington. They are into an awkward groove of not losing on their travels.  Overall, they've only lost one in the last 11 and have burst clear of the bottom four. Our home record against the Lincolnshire crew is pretty even. We have won twice, so did they and there was just one 0-0 draw.
Boston Manager Ian Culverhouse is still better known for his playing career, mainly for his 300 appearances as a defender for Norwich City.  He also has a UEFA Cup winning medal as he sat on a bench when Spurs beat Anderlecht in the final in 1984.   As a manager, he's with his fifth club in five years.  He joined Boston United in September 2022 after United had a dreadful start to the season.  Quite why such a talented, well-funded squad with people like Ben Pollock started so badly isn't at all clear.  An obvious area for improvement is their defence has leaked regularly, particularly when facing set pieces.
I've saved the best till last.  The Boston game sees the launch of issue 138 of Talking Bull, our last organ of the season.  Expect to see our usual 48 pages, virtually advert free for £3, on sail from rowdy vendors behind the main stand.    A reminder once again that the editorial team are unpaid volunteers and all funds generated go to help our football club.  We have an interview with Stuart Fleetwood, news about the launch of a new Hereford FC perfume and a thank you note from the Government.
https://www.talkingbull.org/store/