After a night under the lights at Edgar Street in the 1st Round of the FA Cup, comes another floodlit match. However, it's far from the glamour and glitz of a packed stadium against League One opposition – this one is at the definitely unglamorous Latimer Park against Kettering Town in the National League North.
Simon Wright ponders on yet another midweek fixture as the Bulls get back to reality.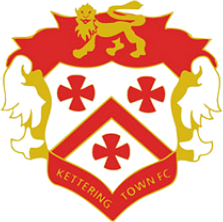 For most clubs, the best moments are fleeting and to be savoured to the max as you don't know what mishap is around the corner. There's a video on the Kettering FC website where the club owner Richie Jeune addresses supporters and players in their bar post-season. The Poppies just missed out on the play-offs in the last minutes of the last day and for Kettering this was success. Understandably, Jeune was talking up the club but within a few weeks his manager and all the best players had gone. Two of them were lured away to Peterborough Sports, the poorest supported club in our division.
Town believe strongly in their academy aimed at ages 16 to 19, headed up by a certain Luke Graham. One of his team is Frankie Fry, Barry Fry's son. In between training, they can offer students both BTEC's and a HNC's in Sport. They link with an American club who can provide regular football while studying for a degree. Doesn't seem too many of them moving into Kettering's first team.
By contrast, the first team squad has little continuity, now being led by their third different manager this year in Lee Glover. The summer arrival was born in Kettering which these days makes him eligible for Scotland so he claimed three Scottish U21 caps. He's best known for playing 100 times for Nottingham Forest in the top flight in pre Premier League days. Since retiring, he's had several assistant managers jobs but hasn't been the main Gaffer since 2006. His appointment was a bold move. Or if you want to be cynical, he was the best among people willing to apply.
Glover promised a new young and talented squad and my word the squad is certainly new. Out are nearly all the old farts who've lingered there for years. Only 3 players were retained and 18 more were signed. The average squad age is now 23.
Predictably, there are (tenuous) Edgar Street connections. First choice played-every-minute central defender Brad Gascoigne is 28 and Kettering are his 18th club in ten years. One of his previous signatures was at Edgar Street for that infamous half season we don't talk about. Moving on rapidly, do we remember striker Andre Wright at the Street last season who wasn't very effective but cheap. Hereford were club no 12 for the 25-year-old, Kettering were club no 13 and very recently Stratford became club no 14 as Lee Glover shipped him out. His departure freed a wage to bring in another striker Tyrone Lewthwaite from Bedford Town. Town are not prolific scorers. Highest current is Andrew Oluwabori, a 19-year-old on loan from Peterborough and thus liable for recall in the New Year.
As the regulars will know, Kettering's ground is one of the easier ones to reach though there is a feeling of "what am I doing here'?" upon your arrival. Can't be easy for their die-hard supporter. Imagine if Hereford FC were ejected from Edgar Street and reluctantly had to play at Wellington instead? Welly is decent for what it is but it is no Step 2 ground and adding strategic bits of Meccano here and there doesn't change that impression.
The Poppies announced last year they had exchanged contracts with the local authority to build a new ground in Kettering on Frenches Field. Details on funding are not clear, especially as the club is £450,000 in the red and their current average gates of 630 isn't helpful either (25% down ion last seasons average).
Admission prices never seen to change here. £15 adults, £10 concessions and £2 for kids. To avoid doubt, you have to pay the club these monies to enter, not the other way round. Probably the best bit of Latimer Park is the comfortable and well-appointed bar. There's always decent real ale on and a range of cobs. Its noticeable during our midweek visits (we always end up going there at night) just how many people go in after the game for a beer.
Although Kettering are struggling, most of their points were gained at home. They've beaten Telford, kings Lynn (who had a player sent off) and Spennymoor. possibly because of their infamous pitch, described recently by their website correspondent as "firm and bouncy." If only they had a consistent 4g surface.
Happily, Hereford FC have a decent record v the Poppies. In 7 meetings, we've chopped them down 5 times and yawned our way through two draws. Goals for 15, against just 6.
Our visit will be Kettering's third straight week of Saturday and Tuesday fixtures, a schedule likely to create tiredness and additional injuries in their ranks. Not that our schedule is much easier.
Can we better Kettering? Hope to see you there to find out..