HEREFORD supporters can certainly relate to the feelings of relief finally being experienced by fans of the beleaguered Blackpool FC this weekend.
After a turbulent, and tortuous, period the club has finally rid itself of the Oyston regime with Simon Sadler unveiled as the new club owner.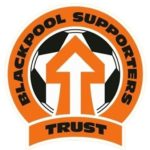 The Blackpool Supporters' Trust welcomed the transition; "Like many Blackpool fans all over the world, members of Blackpool Supporters' Trust are delighted with today's official club statement that Blackpool FC has a new owner, with a 96% shareholding. Welcome Simon Sadler.
"The announcement confirms the end of the Oyston regime at our football club and removes the spectre of any further involvement from that quarter. For years, we as supporters have campaigned with vigour and with decency to see the regime change at Bloomfield Road, with little support from the football authorities. This feels like a moment of victory for the principled manner in which we have continued to fight for the club's future. It is certainly a moment to savour.

"The Trust has today written to Simon Sadler to congratulate him on taking ownership of the club. While there will undoubtedly be challenges ahead, he is afforded a rare honour in taking on the custodianship of the one the most famous clubs in the land. It is as special a moment for him as it is for us, and we wish him well. We will also look to see if it is possible to arrange an Extraordinary General Meeting and extend an invitation to Mr Sadler to share his plans and aspirations with fans.

"This is a watershed for Blackpool FC, and a chance to put the recent past behind us. We hope that as a Trust we will in future be able to spend rather more time focussing on positive developments, helping to put our football club at the heart of the community from which it draws most of its support and working actively on behalf of that community. It will be a welcome change from being a conduit for protest, though the Trust will continue to scrutinise closely the workings of the new board in line with our stated aims to hold any owner of Blackpool FC to account to be an ethical custodian.

"As a Trust, we will continue to campaign with energy for wholesale regulatory reform of English football. Our recent troubles are hopefully a thing of the past, but we owe it to colleagues at Coventry City, Bury, Bolton Wanderers and all the other clubs who have been failed to make sure that their plight continues to be highlighted.

"Today however, our focus is on ourselves, and a new partnership with the club that we hope will bring huge benefits to both. Mr. Sadler, welcome, and good luck from all in Blackpool Supporters' Trust".
Good luck Blackpool, from us here at Talking Bull – the Independent Hereford Football Club Supporters' Magazine. Football supporters should never have to suffer the sort of stress and turmoil Blackpool fans have had to endure these last few years.
Images: Blackpool Supporters' Trust