Will you be at Edgar Street over the Festive Period?
Whatever your thoughts are following the dismissal of Peter Beadle and Steve Jenkins, surely it is time to back the team. The Bulls desperately need our support and what better games over the festive period could we wish for?  With Kidderminster Harriers, Chester and Chorley next up we are very much the underdogs. It has been three years coming, but this season we are very much up against it, but as Hereford fans we relish the prospect of taking on "higher-graded" opponents, don't we? 
Boxing Day provides many with a day off work. Nothing to do but watch Hereford, or go down the pub. Maybe the pub provides a greater incentive this season, but are you truly backing the Bulls if you decide that beer, chocolate and pudding is more appetising than football at Edgar Street this year? 
The players need our support. They'll be conscious they have plenty of football to play in a short space of time. We demand more in terms of positive results and points in the National League North, but let's hope positivity will get the fans, as well as the team, through the next few days of turkey sandwiches et al. 
The hangover following "Beadlemania" has to end. 
Let's be honest. We don't like losing. There was a suggestion that some "supporters" would not attend Edgar Street "until the results meant something". The demand for competitive football was the rallying call. Well, this season counts. The hype has gone. The decision making at Board level has been questionable at best, but the team definitely now need our backing. Would you rather a return to the Southern League? 
The festive period could decide the nature of our season.  
We may well still attract players come the New Year, but what better incentive to link up with the Bulls than a couple of victories, against the odds, would bring. 
Equally, a resurgence will invigorate support for the team, and those still hung-over from the loss of Peter Beadle could yet be won round. Otherwise, being dragged right into a relegation scrap will put further pressure on the Board of Directors to bring yet more change, and yet more uncertainty early in 2019.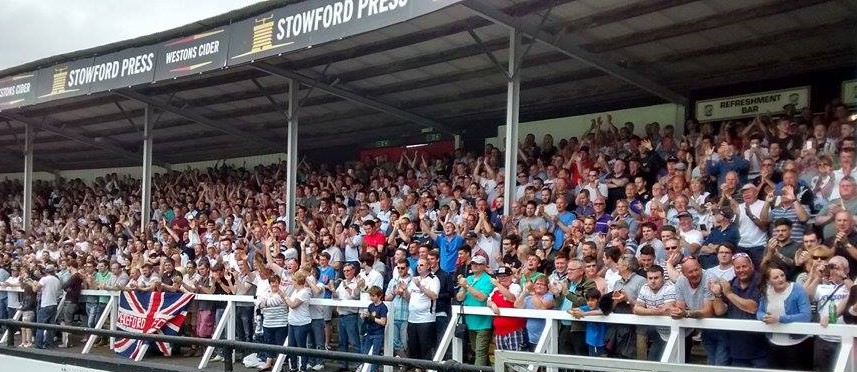 There will be supporters alongside you at the matches against Kidderminster and Chester who will not have been to Edgar Street for a while. Let's try and create a positive atmosphere, otherwise we may lose them as quickly as Rudolph and his sleigh disappear over the rooftops. 
Decent performances against Kidderminster, Chester and Chorley could define our campaign. Otherwise a long slog could cause irreputable damage to our otherwise upwardly mobile history to date. 
All we can do is make sure the crowd are as positive and as supportive as we can be. You may feel it's a question of supporting the team, and not the regime. Whatever. The players need us with them to get them through Boxing Day, like a family member offering a coffee and a bacon sandwich instead of a vol-au-vent and flat Butty Bach. They need to know we're behind them and, if it isn't going to plan after 35 minutes, it's not time to head for a beer to maintain blood alcohol levels, it's not time to crack open the chocolate orange in your coat pocket. It's time to get behind the team and give everything for 90 minutes. 
Let's make Boxing Day the start of an improving situation into 2019, and belief that a competitive side can be assembled in the months ahead.