Here is the Talking Bull Away Guide to Darlington ahead of this weekend's fixture at Blackwell Meadows as compiled by Ian Sandford & Simon Wright.
We're on our way to somewhere. We've no idea where we're going, but we're going to enjoy it.
DARLINGTON
Saturday, 17 November.
It was with no little curiosity that I arrived at the home of Darlington Rugby Football Club recently to watch a football match between two sleeping giants of lower league football, now both residing in the sixth tier of the English pyramid, with our beloved Bulls.
Both Darlington and Stockport County have suffered dramatic falls, but completely contrasting ones. Many will remember County in, the now, Championship; their fall has been a steady descent over many years, seemingly the runt in Greater Manchester`s footballing litter. Whilst Darlo suffered a fate similar to the Bulls, via dubious stewardship from owners with ulterior motives. The two teams met on September the 29th at polar opposite points in their recent trajectories. The Hatters fall finally seems to have bottomed out, and the Quakers rise has apparently plateaued.
The County Durham team were once the envy of the lower leagues with a 25,000 all seater purpose-built white elephant, built at the behest of one of the north-east`s most wanted, who made Mr Agombar look like a cheeky little urchin. Saddled with the huge running costs of a stadium barely 10% full, the black n' white hoops fell into insupportable debt and their "benefactor" ran for the Cheviot hills.
Darlo have been homeless in the years since reforming and have recently been denied a play-off place due to the seating restrictions of their current residency. Financial problems seem to be rearing their ugly head again and a steady rise back up the leagues now looks to be taking a downward turn. About to be compounded by the rumoured departure of their talisman Reece Styche, who at the time of writing appears to be on the verge of being sold to Alfreton for £60,000. On the evidence of this game, the Quakers are no great shakes and the poorly supported Styche was easily nullified by a big Stockport backline. Whilst Stockport won by the only goal, Darlington might have felt slightly aggrieved not to have taken something from the game.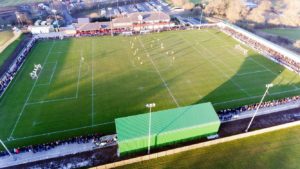 Darlo`s new home is Blackwell Meadows, home to Darlington RFC. Ironically the town`s other rugby club now play their home games at the formerly impressive Darlington Arena, the Quakers previous home. It is a decent ground with a capacity of around 2.500 but only one seated stand of any note with 800 seats, opposite the main clubhouse. There is limited seating in front of the clubhouse, but as soon as supporters gather around the pitch perimeter, any seated view is obscured. A bucket collection was taking place to finance ground improvements, presumably to increase the seating capacity.
Adults: £14.00
Concession (Senior/Student/Forces) £10.00*
Children Under 16: £5.00**
Children Under 11: Free of charge
(must be accompanied by an adult, maximum of three children per adult)
* Over 62's as at 1 September 2018, full time students (student card required), registered disabled persons, armed forces personnel)
** Children aged 11-16 years old
 £2 upgrade to seating (Adults/Concessions/U16s), under 11's free.
Tickets can be bought online before midnight on Friday, with fans able to save £1 on the price of tickets on match day.  
LINK
The ground is segregated and the away fans occupy the open terrace at the Meadows West End. The clubhouse itself is pleasant and welcoming but does get full quite quickly. Refreshment on offer includes Doombar, Caffreys, Theakstons Lightfoot, Staroproman, Guinness and the usual mass-produced lagers, all for approximately £3 per pint. A burger will set you back £3, chips £1.50, sausage rolls & pies are also available. The matchday programme is decent at £2.50.
Parking at the ground will cost £5, free for rugby matches! However, it is limited and egress is slow as everyone leaves by one exit. It may be better to drive past the ground and turn right, where there is roadside parking in front of a local park.  You could leave your vehicle in the town centre if you enjoy a 25-minute walk.
For anyone seeking a convenient overnight base, the 3 star Blackwell Hotel is opposite the ground. Expect to pay £100 per night for a double at standard rate.  Premier Inn and Kings Head Hotel are cheaper alternatives.  Or you could just book into a local castle as one TB contributor has already done.
Getting There:
By Road: 460 miles return (DL1 5NR) Take the A1(M) to J57, exit onto A66(M), towards Darlington, continue straight onto A66. Take 2nd exit at roundabout onto A167, Blackwell Meadows is about 400yds on right.
By Train: Darlington is on the East Coast mainline and the train station is in the town, approximately 20 minutes' walk to the ground, south along A167, though buses are available.  Do expect a round trip of 9 hours from the Shire, with only one change admittedly and a rather large bill.  Straight run from London Kings Cross in 2.5 hours.