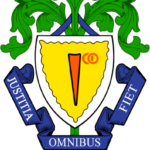 Hereford visit Dunstable Town tomorrow afternoon, and here exiled Bulls fan Joolz Page tells us exactly what we can expect.
'Just a bus stop in Luton'. Sadly, this is almost true of this once bustling market town which is situated off the M1 in South Bedfordshire. It has close neighbours in Luton and is situated about an hour north of London. Most of the industry and shops have closed or moved away following the closure of a huge Vauxhall plant in Luton. Dunstable replaced industry with new build houses and has become a dormitory town for commuting to London, Milton Keynes or Luton.
In the mid 70's, Dunstable Town Football Club boasted a young Barry Fry as manager learning the ropes. He was able, with the help of an open cheque book, to attract Jeff Astle and George Best, two footballing legends of their era. They donned the blue and white shirt and turning out in a few friendlies having retired from professional football. This caught the imagination of locals who turned out in their droves as these friendlies reportedly attracted over 10,000 to Creasey Park. Jeff Astle stayed for the duration of a successful season. The Blues are now sadly in financially disarray and not for the first time with two closures behind them. Such is their plight this time that finishing the season will be an achievement in itself. Famously, their players are not paid.
The Blues gave the world Kerry Dixon and received their record transfer fee of £20,000 in 1980 when Reading came calling. He went on to play for Chelsea and England and is something of a local celebrity.
Another recent fact, one most of you may remember is that Dunstable Town were the last hosts of Hereford United in the dark days of the Agombar/ Lonsdale double act. The Bulls went out of business soon after managing a 1-1 draw and the programme sold out twice over.  Sad times, but look at us now!
Creasey Park was the site of an old-fashioned ground but was completely rebuilt when the place was acquired by the local council around 2011. It has lost the olde world charm and the new look can be purchased in kit form from B&Q for only £320 + VAT. Admission is £10 adults with concessions at £6 and under 16's are free.  There is an alleged capacity of 3,500 with 300 seats.
There is disabled access to the ground and a car park at the front of the park as you drive in. Coaches can also park in here. Parking at the ground is free. There is also a car park before you reach the ground in Brewers Hill Road imaginatively called Brewers Hill Car Park. If you drive to the far end and park the ground is only just through a short alley and all parking is free. Look out for a 4 page programme with the "real thing" downloadable as a free pdf, in advance of the game.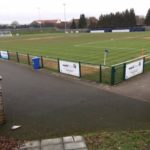 The club bar serves food but it is fairly characterless and is run by the council. This may explain the side having the lowest average attendance in the league at just under 100. So, for pre-match refreshments, the following are highly recommended;
There is an acclaimed real ale pub, the Globe, about twenty minutes walk from Creasey Park for those who appreciate fine ales and ciders, at Winfield Street, LU6 1LS. They recommend a local brew called 'Dunstable Giant' and they have a couple of still guest ciders in 'Old Rosie' and 'Mango' (Somerset) but these may change by mid-February. They also serve Stowford's.  Closer, for those easier to please and only three minutes' walk to the ground is the Bird in the Hand, High Street North, LU6 1AZ which serves the usual burgers, pizza and the like along with popular beers, lagers and ciders. There is a token real ale, which is either Greene King IPA or a certain product made by Sharps.  This pub is large and very welcoming to travelling Bulls. They are looking forward to the visit as the chef's bezzie is a Bulls fan. We are everywhere!
Travel
By Rail: This is not an easy trip by rail from the Shire. You either have to go into London and back out to Luton and then catch a bus, or, you have to go to Leighton Buzzard from Birmingham and get a bus. Both will take over 4 hours each way and probably cost the GPD of a small African Republic. This town is far more accessible for the London Bulls by train.
By Road:  128 miles.  This will take two and a half to three hours depending the weight of your right foot.  (LU6 1BB for the satnavs).  Head towards the M5 past Worcester and go north, take the M42 and then the M40 to junction 15. Head up the A46 and merge onto the M45 and then the M1. Head south on the M1 to the new 11A junction and go towards the A5. Go into Dunstable on the A5 and turn right at the second set of lights. Creasy Park is along on the right.
Tourist Attractions: For the few Bulls considering making a weekend of Dunstable you have Woburn Abbey, Woburn Safari Park and Whipsnade Zoo within a 15 minute drive. Anyone looking to stay in the area you may find Woburn a more pleasant place to base your trip. There is a hotel and a couple of guest houses which only get really busy when the Open (Golf) comes to town.
By Joolz Page
This from Andrew Madaras, Dunstable Town FC Secretary, who has written the following especially for Hereford Supporters going to Creasey Park tomorrow.
On behalf of everyone at Dunstable Town FC I would like to welcome you all to Creasey Park for Saturday's Evo Stik Southern Premier League fixture.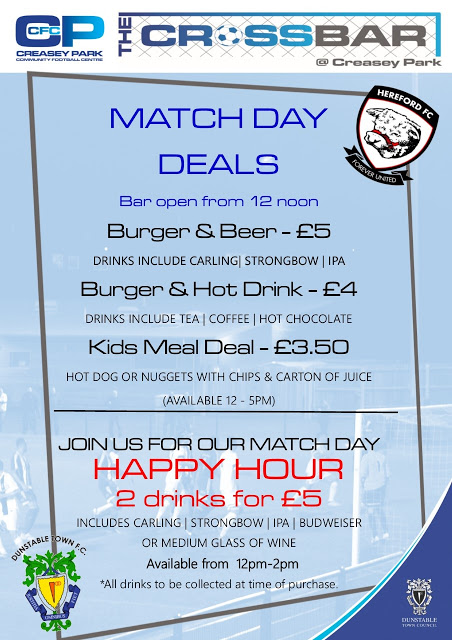 We hope you all have a safe and enjoyable day with us and return home having witnessed a good game of football from two attacking sides, albeit at different ends of the table. We greatly appreciated the warm welcome we received from you at Edgar Street and the sporting reception you gave our players, particularly at the end of the match.
We also hope you find us to be an inclusive, friendly and welcoming club where irrespective of the result we endeavour to look after our guests and their supporters in a hospitable and respectful manner. We have retained admission prices at the standard rate of , Adults £10 / Concessions ( Seniors / NUS / 16-18 yrs ) £6 /  Under 16's Free. We did not feel it the right thing to do to increase our admission prices simply to take advantage of your loyalty to your Team.
Turnstiles will be open from noon when there will be hot food and drink offers available in the Clubhouse. In order to avoid queues building up later we are politely requesting you arrive with plenty of time to enter the ground and make use of the facilities on offer.There will be no segregation in place and you will be welcome in all parts of the ground, and to change ends at half time. We have arranged additional hot food and bar facilities which you will find at the far side of the pitch by the Deakin White seated stand. There are also extra toilet facilities located on this side of the pitch. The main Clubhouse on the near side has a bar with wall mounted TV's. There is also a hot food hatch and toilets both outside and inside. There is a disabled toilet inside the clubhouse.
There will be stewards inside and outside the ground for your assistance and volunteers directing cars to the main and overflow car parks. There will be a uniformed police presence to maintain everyone's safety. Please be aware that smoke canisters and similar objects are not allowed into the ground.
The match day programme is now a digital edition with links available from  our Twitter feed on Friday. We do sell a 50p Match Day mini programme, 50 -50 tickets, golden goal tickets and Club badges as souvenirs. Creasey Park is a council owned facility which is home to AFC Dunstable as well as ourselves, and other community groups. In addition to the main grass pitch there is a 3g pitch at the back of Creasey Park, which will be hosting a competitive fixture starting at 2 30pm so please be aware of the fact that two other teams and their officials will also be at the ground on Saturday. We wish all of you a safe journey.
Yours In Football – Andrew (Secretary Dunstable Town FC)