Depending on the outcome of the upcoming National League AGM, and the consequences of the expected removal of Gateshead, the five "newcomers" that will be facing Hereford in the NLN  in the 2019/20 season are known.
But here are 'Five Facts' you may not know about each of the five new clubs in the Motorama Nationwide League North.
Farsley Celtic FC – Northern Premier League Champions
Most of the Farsley Board are very knowledgeable about manure. Probably a very handy talent given their involvement in football.  They are expert on manure density and complexity, they can smell it at distance, they may even taste it, who knows. These people are experts.  John and Margaret Palmer are horticulturists and own a plant nursery with two other family members, who are also on the club board.
Farsley's largest shareholder is Robert Winterbottom (incidentally a right proper name for a Yorkshireman) who is the club programme editor. He only moved into the area in 2009 and became a director last December.  If more programme editors were majority shareholders, how different the world might be.
Farsley Senior season tickets for season 19/20 are priced at £50, which is ridiculously cheap.   Or there is an Old Fart Special, a Gold Season ticket, which for £80 includes a steak burger and a pint for every game.  You wonder what's in the burger and in the pint glass at an equivalent of £1.50 per game.  For interest, adults are priced at an alarming £80 or £120 for a Gold season ticket. Farsley make FC United look expensive.  it's an interesting move and maybe necessary when you share a supporter base with Leeds United?
Farsley's average attendance last season was 350.  That includes the 1,500 who turned up on the last day when Celtic won the title.  Farsley made the game free of charge which boosted the turnout and their gate average. Their lowest gate was 88 against Pontefract Collieries.
The Celts last accounts showed a deficit of £84,000, which probably equates to a whole seasons income with their prices.  Fortunately, most of the debt is owed to the directors, who aren't in a hurry to get their dosh back.  Farsley feel like a direct replacement for Ashton United.
Gloucester City – hung on grimly to Step 2 status and return to the North
Eamonn McGurk is the major shareholder and bailed out City way back in 2002 by paying off their debts to avoid the club closing. McGurk employs 900 people across his business empire Keyway and was recently awarded the Freedom of the City of London.
Latest accounts to June 2018 show a club still struggling with a £130,000 debt and no ground.  City currently have no Chairman or Vice Chairman.
The Tigers are returning to their home town but not until towards end of next season. From January 2020 onwards, they will be renting Evesham on a monthly basis until they move
For 15 years, Gloucester's football club was called Gloucester YMCA.
The Tigers got to Step 2 for the first time in 2009 and have hung on ever since. They played for 7 years in what was Conference North.
Their highest attendance last season was 720 against Torquay United, against an average of 340, a legacy of a decade+ of exile.
Kings Lynn FC – Super Play-Off winners
Such lovely people. Manager was sacked by a League club for bullying while club owner Stephen Cleeve has an 8-year disqualification as a director behind him, after his involvement in a string of shady businesses.
In November, Culverhouse returned to manage Lynn who were 14th at the time and turned the club around instantly. What was key was the signing of striker Adam Marriott from Boston in October who scored 28 goals for the Linnets.
The last time or more accurately the only time Kings Lynn reached Step 2, they were compulsorily relegated from Step 2 for not meeting ground requirements.  They've got work to do quickly to install extra turnstiles, fence off a proper away section with toilets and refreshment area and extend their dugouts and press area. In fact, not only were Lynn relegated last time, they went bust.
Ominously in May 2018, the Linnets owed £161,000, a debt which had risen by £70k in just a year. Sounds like they were trying to compete with Hereford in Step 3.  As Stephen Cleeve is the majority shareholder and the only Director, my guess is that he's underwriting the debt.  This is on top of the £250,000 he spent to buy the club in 2016.
Cleeve owns the 18th century George Hotel in a nearby Norfolk village. He had difficulty raising the finance to buy it – not surprisingly – so he allegedly sold his London flat to buy said hotel.  The premises only have 10 staff so probably more of a gastropub with rooms rather than a full-blown hotel.  He also owns the football memorabilia website CollectSoccer which is billed as "the world's largest dealers in football memorabilia and programmes worldwide."
Their new season tickets prices are £290 adults and £250 for seniors. They make us look cheap.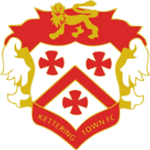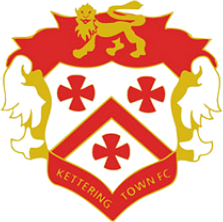 Kettering Town – Southern League Central Champions
Champions with 94 points and their supporters celebrated winning the title in the famous King Eddie pub.
Craig Stanley has left the club, as he has started a new job near his home in the North. He played in defence for the Poppies and played very well.
Kettering have a lot of ground work to do – increase numbers of seats, upgrade floodlights, build extra turnstiles, open more catering points etc
Luke Graham is Kettering's full-time Academy Director and is now part of the first team coaching set up.
The Poppies have only two directors. One of them Ritchie Jeune owns 75% of the club.
The Poppies Trust are heavily fund raising at the moment.  A recent brass band concert raised £500 – now why didn't we think of that?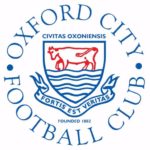 Oxford City – Bumped up from National League South
City's recent years are wrapped around a horrible situation whereby the action of an American fraudster Thomas Guerriero left them in £1.5 debt. The idea of a world-class sports academy near the dreaming spires sounded great.  Trouble is, by the time the expensive new buildings were complete, said American had started a 12-year sentence for defrauding pensioners.  The most horrible outcome was that Managing Director Colin Taylor felt so guilty about the debt that he hung himself at the ground. Since then, City officials have strived to reduce their debt and have somehow have reduced it to below half a million.
There will be a familiar face in the City dugout.  New full-time assistant manager is Andy "Bad Ass" Ballard of Didcot infamy. Both he and the manager Mark Jones will be full time next season.  I presume they will be involved in coaching the youth teams?
Kabongo Tshimanga scored 36 goals last season for Oxford.  Not surprisingly, he became Player of the Year. "Kabby" is with his tenth club and moved from Boston United twelve months ago.  You wonder how long he will stay?
The arrival of City will mean a 3G surface in Nationwide North.  Anyone can hire their pitch from £48 per hour.
The Hoops, as they are called, finished mid-table in Conference South in 18-19.