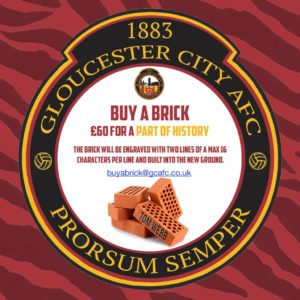 One of Hereford's near neighbours in the National League North – Gloucester City – have announced a fund-raising 'Buy A Brick' campaign ahead of the new season.
The club will continue to ground-share with Evesham United at the present time but are hopeful of a return to their Meadow Park home in 2020. The 'Buy A Brick' campaign enables supporters to purchase a brick for £60 which will be used in the construction of the new ground. Fans will be able to add a two-line engraved message in a similar way to those Hereford installed next to the dressing rooms at Edgar Street.
The Tigers reached step two for the first time in 2009 and have hung on ever since. They played for seven years in the Conference North, but have struggled financially for decades. The highest attendance last year in the National League South was 720 against Torquay United, and averaged a mere 340 home fans  – albeit at their temporary Evesham base.
Gloucester have new joint chairmen following the recent appointments of Eamonn McGurk and Alex Petheram, whilst Jody Gooding becomes vice-chair. In a joint statement from the three, "We're extremely excited and proud to take on the roles. This is an important time in the club's history and we all need to come together to get this club over the line and playing in the city again.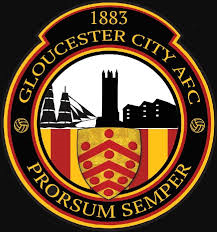 "We aim to create a strong club culture throughout all sectors especially the Youth, Ladies, Foundation, Supporters Trust and Fans all the way through to the first team.
"Our goal for next season remains the same, to stabilise both on and off the pitch as we continue our long journey back to Meadow Park. Now we have planning granted and our funding application is in, we're currently working with the FSIF in the due diligence stage, which due to the nature of our detailed application will be concluded we hope at the end of September 2019. Until the conclusion of the application there will be no future updates on the ground unless something changes."