The construction of apartments and a new 65 room Premier Inn next to the Bulls' Edgar Street home is taking shape. The works include the construction of a hotel with a ground floor restaurant, plus hard and soft landscaping.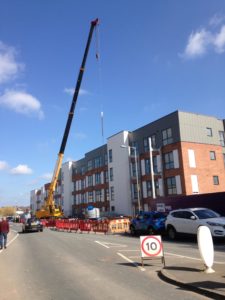 The works began in September 2018, and are due to finish this August, with the Dribuild project registered to the Considerate Constructors Scheme. The new apartment buildings and hotel overlook the home of Hereford Football Club, and once completed will dramatically improve the former site of the old Furniture Importers store in Blackfriars Street.
Speaking about the development, Hereford FC Chairman, Ken Kinnersely, said he is pleased to see the positive progress, "We are delighted that the development is proceeding well and welcome the continuing regeneration of the areas that will comprise the Urban Village around our stadium.
"We are very much looking forward to working with Herefordshire Council and their development partners, Keepmoat, to develop plans and ideas for the redevelopment of the Blackfriars End of our historic stadium, so that we can return to accommodating spectators on all four-sides of the playing area as soon as possible.
"Having a four-sided stadium is imperative as we look to continue our progression up the football pyramid and while we recognise that the current economic climate is challenging, we are looking forward to working in partnership to help continue the transformation of the area that includes our football ground.
"There can be no doubt about the positive impact this football club is having on our city and we regularly receive positive feedback from retailers on the Old Market site about the increase in footfall they see when we play at home.
"We are determined to continue our success on and off the field for the short and longer-term, and as we establish our community programme, we are certain that we will become even more important to the local area."