The Talking Bull and Radio Hereford FC 'Ground Guide Guru' Simon Wright joins us with his views of the upcoming trip to Oxford City in the FA Trophy. Ably assisted by Andy Gardner this guide provides some useful information for Hereford supporters who will make the short trip to Marsh Lane on Saturday, 25 November.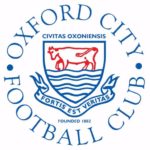 Oxford City: FA Trophy 3rd Qualifying Round – Saturday, 25 November. Kick-Off 3pm.
An away Cup game under 80 miles away for supporters? Didn't realise it was allowed.
City are a struggling Step 2 club with a modest following and one home League win all season. With 37 teams, the Hoops have more players than fans and there's nothing wrong with that.  City play on a 3G pitch (available to hire at £175 per match). Their Marsh Lane Ground, opened in 1993, bears resemblance to Potters Bar Town.
Capacity is a similar 2,000 but with nearly 600 seats.The low-roofed main stand has 4 rows of seats with a windshield at either end but also numerous pillars too. The covered terrace opposite is of similar dimensions, also with pillars. An additional 159 seats were added last season in the North-West corner. There's a second covered terrace running half of the width behind the goal, also with pillars.
The large very green Clubhouse and offices behind the other goal is the largest building by far.
Normal admission charges are £12 adults, half price for OAPs/ Disabled and quarter price for students with ID.
Under 16's are admitted free of charge.
City have little or no experience of segregation – with their average gate of 250, its rarely an issue. But good old Thames Valley Police insist on segregation so Hereford supporters will be using the main stand and the terrace behind the school. Temporary everything will be brought in just for us.  Just like Banbury revisited. There is a free car park outside but this will fill quickly and a local school will handle overflow.
The Clubhouse is large but seems likely that we won't get near it. The ground is bordered by the A40, green fields and (further away) houses. The nearest pub is nearly 3 miles away. Neither are there any convenient cafes. With both sides having the FA Cup on their minds the following weekend (Oxford have a televised game at Notts County), maintaining 100% concentration may be difficult for both players and spectators alike. However, both Pablo Haysham and Mike Symons, being former Oxford City players, will want to impress.
Getting There
By Road; 76 miles (OX3 ONQ) Leave M40 at J9 and take the A34 towards Oxford. Follow A34 for seven miles until the A44/A40 turn off. Leave the A34 and at roundabout take the ring road towards London (A40)/Oxford. At the next roundabout take the second exit continuing along the ring road. After two miles, take the slip road signposted Marston and Hospital. Follow the slip road around and over the A40 onto Marsh Lane. Ground on the left.
By Rail:  Do-able via Worcester in 2.5 hours and an opportunity for city centre refreshments.  The ground is 3 miles away, so its either a taxi or a No. 14 or 14a bus (14 is more frequent but drops off ten minutes away from ground.
By Coach:  Visit Hereford Awaydays Facebook Page