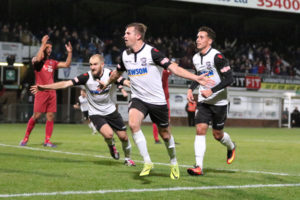 Following unprecedented demand this afternoon the Evening of Soccer with Pablo Haysham and John Mills on Wednesday, 27th June 2018 is now SOLD-OUT.
The event at the Rankin Club in Corn Square, Leominster is the latest in a series of sports talks with many Hereford supporters keen to say a final farewell to the Bulls' duo who have enjoyed unrivalled success at Edgar Street over the last three seasons.
A waiting list for any ticket returns or cancellations is now in place, so should any fans wish to add their name to this list they can do so by emailing their details to editor@talkingbull.org
Another similar function at the Rankin Club is set for Monday, 16th July when Billy Tucker, Dudley Tyler & Peter Timms will be the legendary guests.
Ticket sales arrangements will be announced soon.