Now here's a game to get resident statto Ron Parrott very excited, our maiden competitive fixture against the village team near Walsall. We've played friendlies with them previously and our Youth teams have met but this is a proper first team first. These days the Pics are our second nearest opposition and so are fair game for midweek slots.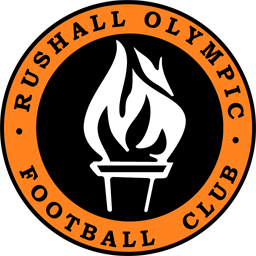 Rushall Olympic claim ultimate lineage back to 1893 or even earlier but this version was re-launched in 1951, a modest club who were in step 5 or lower right up to 2005. Since then, they've made steady progress until probably to their own shock, they are now the senior non-league side in the Black Country.
To reach Step 2, they won penalty shoot-outs at both Coalville and Nuneaton Borough. I was at the latter game and it was a two-hour slog. The Pics were just very hard to beat. I was quietly pleased that the very approachable club owners John Allen and his son Nick Allen were rewarded for their decades of toil. John joined the club way back in 1997 as manager when their local derby was against Pelsall Villa. They've not thrown big money at the project, more so they've "built a reputation of involving ourselves with good people."
Continuity matters here. Manager Liam Macdonald joined in October 2017 which will make him the longest serving of any National League North club. Liam's day job is working in the adult care sector on exercise and mobility.
Liam's squad doesn't have many familiar names. It certainly doesn't include the name of Stanley Obinna Anaebonum who they thought had agreed to join them but ultimately didn't. Best known name is goalkeeper Jake Weaver, formerly of Leamington, who always looks gaunt and undernourished though the surprise signing of loan 'keeper Brad Foster from WBA suggests that Weaver is wobbly. Otherwise not much step 2 nous in their squad.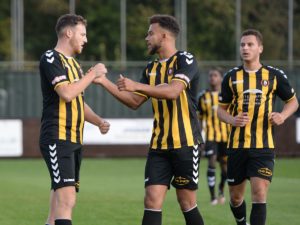 The Pics have added new players from Alvechurch, Redditch, Bristol Manor Farm, Coleshill and Chasetown. The 'Church signing is big striker Danny Waldron who previously had a 3-year spell with Rushall, scoring 50 goals. Or I should say, another big striker because they already have the well-built Alex Cameron. I can't find any reference to him being related to our Captain but even so "Cameron being marked by Cameron" is a worthy-sounding phrase.
The club website reflects the excitement of reaching Step 2 for the first time, every story is so very upbeat. For their first two games, they were at home to Farsley Celtic (lost 0-2) and then away to Curzon Ashton (drew 1-1 thanks to a first goal by Danny Waldron). Those very determined opponents have cooled their ardour down a little. No much glamour at our level.
With an average gate of 300 and no obvious benefactors, I can only assume Rushall's budget is small for this level and what they do have will be needed to increase their capacity by 300 if they want to stay in Step 2. I can't find any current annual accounts record anywhere. I am sure accounts are being filed, I just don't know where.
The bookies are offering Rushall at 100/1 for the League title, way behind the second longest odds, Peterborough's 66/1. The club do make the most of what they have with a reserve team and a full-time programme for local 16-19-year-olds. Worthy but they must be so vulnerable to bigger clubs saying "we'll have him…".
Rushall are our first midweek opposition. We are still enjoying light nights and school holidays so please get to the Street if you can. Football is always better live. Or for the first time, a National League TV stream will be available for a tenner for people who really can't get there.
Hopefully see you at Edgar Street.
Rushall Olympic (ticketco.events)
Simon Wright