Steve Guinan will be returning to Edgar Street this Sunday as a Hereford United Legends' side take on a Cheltenham Town Legends' side.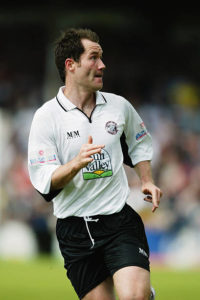 The game is being organised by the former Bulls and Robins striker and will raise funds for the FA's Charity of the Year, the Alzheimer's Society.
Guinan said: "I would like to thank everyone connected with Hereford FC, particularly Jamie Griffiths, for their help in organising this match to help raise money for Alzheimer's Society.
"I am really looking forward to being back at Edgar Street and putting on the white shirt again, alongside so many friends, ex-players and legends in what will be a fantastic occasion.
"Over half of us are affected by dementia through someone we know, including millions of sports fans, professionals and ex-players with football creating many of life's greatest moments, shared with friends and family.
"I'd love Edgar Street to be packed with fans to cheer us on and I'd make a plea for as many people as possible to turn up and help raise as much money as we can.
"I think most of the players have been getting some much needed training to get ready for the game and fingers crossed we will provide an entertaining match and experience for everyone."
"Hereford FC General Manager, Jamie Griffiths, said:
"We're delighted to be supporting Steve in helping to put this event on, with the money raised going to a fantastic cause. It will be great to welcome back a number of Hereford United legends and it will give us all a fantastic opportunity to reminisce!"
Tickets are priced at £5 adults and £3 concessions & U16s.
These can be purchased via the official Hereford FC website.
Steve Guinan Hereford United Legends vs Cheltenham Town Legends (ticketco.events)
Hopefully there will be plenty of fans at Edgar Street in support of this fantastic cause!