Our Christmas programme of games look hard work. On top of the usual crowded schedule, all of our opponents are currently top six sides chasing promotion – albeit Kidderminster are doing their best not to chase too hard. We have our first return game of the season, doing battle again with Chester and have two matches against the only side we have yet to play – the Harriers. Somewhere among that lot, we need to grab some points to keep us out of the bottom three and to boost morale. To stay up, in my view, we need to average 1.26 points per game for the rest of the season.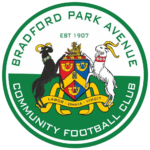 BRADFORD (PA)
Quick summary – Bradford, open brackets PA close brackets, play in an athletics track on the edge of the city, next to a cemetery. It's an open stadium, very windy and only 500 spectators attend. Doesn't sound very appealing?
In fairness, this is a quirky place and although Bradford, open bracket PA close bracket, don't have much support, those who turn up are a very friendly bunch. Especially their media team. They also like their brackets, hence the careful pronunciation. I am assured that some supporters were boycotting because the club name lacked brackets. Now they have them back, they have returned to the fold. Brackets matter in Bradford.
Bradford supporters have a strange existence. They are always in the shadow of Bradford City, even now when City are struggling. They are convinced that promotion to Step 1 would do them more harm than good. Without big support or a wealthy backer willing to donate big time, they are convinced they wouldn't last more than one season. On the other hand, as football supporters, they want their side winning every Step 2 game possible.
Thus far, they've made a good fist of it. At home, they've beat Spennymoor, Boston, Chorley and Ashton, drawn with Stockport, Darlington plus Southport. There were defeats by Kidderminster and Altrincham. Alty, somehow, have also beaten them easily in the FA Trophy and FA Cup. Bradford's home record, for League leaders, is solid rather than impressive. Apparently, they were lucky to grab a point against Southport. Their away form is very decent, just like last season when they won more away games than home ones. Bradford knew exactly what they were doing when they won 2-1 at the Street back in August. Very organised, lots of experience and a big, strong forward in Jake Beesley (incidentally son of big, strong Mark Beesley of Leeds, Man City and others).
Bradford supporters are proud of their history, though it's a strange one. Bradford AFC were founded in 1863 as a rugby club. They remained egg chasers for over 40 years. By then, the players were weary of facial injuries and singing dirty songs so pressed their Board to change codes… I may be exaggerating the cause here but the club did genuinely change their sport to proper football. Caused uproar at the time and Bradford Northern were immediately founded. Bradford even joined the Southern League such was their determination to play proper football. They joined the Football League in 1908 and had their moments, notably developing future England internationals like Kevin Hector and Derek Kevan. But in 1970 they were voted out after years of struggle. The Club folded completely in 1974, but immediately a Sunday League team was founded to keep the name going.
And from there, the gallant few started on the very long way back. Bradford supporters are sometimes known as the Stans. That's a reference to a cartoon strip in a Bradford City fanzine headed up "Boring Stan, Avenue fan."
Bradford with brackets is owned by Gareth Roberts. He's from Bradford, made his money in oil and gas and has lived in Texas for the last 30 years. He is a multi-billionaire. No signs yet he will throw very big bucks at Bradford, though he has provided some money. In October, he switched the club to become a community investment company and recruited two new directors, one of which is also director of the Nebraska Bugeaters. I believe that's supposed to be a positive.
The Horsfall Stadium is an old Council-owned athletic facility. There is a running track between pitch and spectators, which is never ideal. Only 6 lanes with the spectator facilities elevated above them, so the view of the action is OK. At which point I ought to mention Albion supporter Baz Plant who travelled to the Bradford v Southport game and has shared some extra details. He particularly emphasised that the locals are welcoming.
Most of Bradford's faithful sit in the seats, the 1,800 mainly covered seater Main Stand. There are pillars at the front so sit halfway back. The actual seats used to contain cricket-loving bottoms at Lords. The standing areas either side of the stand aren't standing areas – oh dear me no. Supporters must sit on the bare concrete, no crush barriers, you see.
At one end is a tiny covered standing area, known locally as the Bus Shelter End which is for home supporters only. Otherwise there is no segregation. Lovers of terraces can stand up around certain areas of the perimeter fence. There is a plan to move the fence to the other side of the running track so supporters can get closer to the action. It may be in place for our visit. Do look out for sealed-off extra stand, consisting of 27 seats, just in case of promotion. Two seated areas are required to get into Step One. Admission adults £12, Concessions £9, Students £7 and Under 16's £2. There is a free car park at the ground or for the latecomers, there is street parking along Cemetery Road. Baz rolled up at 2pm and parked one-minute walk from the turnstiles.
Do look out for the club shop, which is an Aladdins cave of programmes and souvenirs for clubs all over the country. I delight in crammed places like that. Hitchin was the same and Leamington will be another in the same ilk.
The Stadium does have a jolly decent bar, offering local real ale at £3 a pint. Also has giant TV screens for BT Sport and the only disabled toilet in the stadium.
There are drinking alternatives just five minutes' walk away. On Huddersfield Road, there are two pubs. The Drop Kick is a sports pub, reflecting the proximity of men with odd-shaped balls at Odsal. They have Thwaites real ale at £2.80 and food. In the same street is the Heineken owned British Queen. No real ale, but lovers of ancient pub interiors will be excited. I've not found any local suggestions for the coffee and cake lovers. Or for curry lovers, sadly. The city centre is 2.5 miles away and unless you are travelling by train, you'll want to keep well clear of the main shopping areas on the last Saturday before Christmas. I will mention just one city centre pub as its very handy for the train station. Jacobs Well House is in Kent Street. Two house beers plus 7 guest ales plus real cider.
Getting There:
By Road: (365 miles return) 6th longest trip
By Train: Possible from the Shire via Manchester and at 4 hours each way, is like the road journey. From there, you'll need a bus as the ground is 2.5 miles outside the city centre. Last train back to the Shire is 19.03. From London Kings Cross, travel time is 3 hours. But be warned Northern Rail staff are threatening industrial action that weekend.