As we all sat in front of our tv's for the first Round Cup Draw, I don't think anyone really factored in Gillingham from Kent. It's not the dream tie we imagined, however, on reflection there are obvious plus points.
Firstly, we are at home. Again. Pushing our luck with our 4th straight home tie. The opposition are reasonably attractive being an EFL club. We can expect a near sell-out crowd with that all important secondary spend in bars, hospitality and other areas too. Contrast our positive reaction with that of our visitors. For them, travelling to the famous Giantkillers is a 'oh no" head in hand experience. They will know that Edgar Street is a graveyard for many bigger clubs in the Cup. Even Premier League clubs struggle for victory. It's what we do at the Street.
Up for grabs is £41,000 prize money. That's a serious wedge.
One of our better-known supporters has a dilemma. As mentioned in a recent programme Tanya Forrest was born in Gillingham and educated there. Understandably, she supports both clubs. Tanya seems to be maintaining a low profile at the moment which is wise.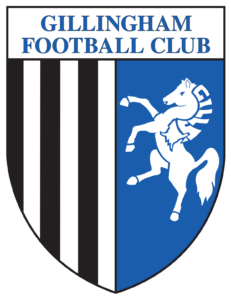 The Gills, despite their position just below the play-offs , don't really have a goal scorer. Three players. Bonne, McKensie and Nadesan have 3 each. Macauley Bonne made his name in Step One with Orient (45 goals in two seasons). He's found the EFL rather harder. He's 26, born in Ipswich but has played for the Zimbabwe U23's. As you do.
Predictably, our League 2 visitors have a large squad but these are not names which would resonate with a Herefordshire audience. With one exception. Tom Nichols played 9 times for Hereford United in 2012 (one goal) as a very young striker on loan from Exeter. He's had 7 moves since then and is 30 now. Gills paid Crawley £60,000 for him, their first transfer fee paid for three years.
One visiting players name needs careful pronouncing. Its SIT HOLE, as in number 31 Ronald Sithole. Poor bloke. Add your own one liner at this point.
Our paths haven't crossed with the Gills for a long time. They are, as a reminder based in one of the Medway towns in Kent. We're talking a 200 mile, 4 hours non-stop trip to Hereford for them. Daunting thought for a possible replay but for full timers its just another routine away match – merely middle distance.
Their away form is strange. They won their first three away League games and since then have lost the next six in League and cup. Worryingly for them, the most recent defeats were 5-1 and 4-1. Literally a different League of course but we are entitled to ask questions about morale. As a result, they recently sacked their manager Neil Harris and as of now have a temporary manager in Keith Millen. The stand-in didn't get off to a great start by being sent off at Walsall. He tripped up an opposition player who wanted to take a quick throw-in. That makes Paul Caddis's touchline interference look quite angelic in comparison. Millen though oversaw a 1-0 away win at Swindon prior to being replaced on a full-time basis following the appointment of Stephen Clemence.
Whether Clemence will get an immediate "new-manager bounce" at Edgar Street remains to be seen. It will be a first top job for Clemence, having previously worked as assistant at numerous clubs alongside Steve Bruce, initially at Sunderland. His assistant is reported to be the former Rochdale boss Robbie Stockdale, who has previously had caretaker management roles at Sunderland.
Just a few figures to illustrate the differences between the clubs. Gillingham were taken over in December 2022. The new majority owner is a wealthy American with a pony tail. They have assets of £17 million which includes a banqueting business, a theme bar/ restaurant and a special needs school. Their last accounts show a £5.5 million turnover which includes a claimed club stock valued at £221,000. As a reminder, our last turnover was about £1.3 million.
As a fanzine editor myself, I cannot let any Gillingham feature go by without paying tribute to the utterly awesome fanzine "Brian Moore's Head is uncannily like London Planetarium." It ran for 18 years (1998-2006) and was the go-to place for all things Gillingham. Many others could compete on quality but none could match their aura. RIP Brian Moore.
You'll all be there cramming into the Street, won't you?
There may be a few spaces left if you haven't got your hands on a ticket yet. Gillingham FA Cup (ticketco.events)
But for our followers across the USA, Canada and even New Zealand, anxiously awake at some unearthly hour of the morning, no worries. BBC Hereford & Worcester in addition to Radio Hereford FC and Matchday Live will be there for you.
Simon Wright