An overview on U18 Community progress by Simon Wright
Lye Town  0 – 2  Hereford U18
Ah Lye Town. Unspoilt by progress.
A club who've stubbornly remained in the same league since it was invented and with ground architecture dating back to the blitz. They're allegedly called the Flyers as masses of racing pigeons used to be released from the ground, so quite why they therefore have an eagle on their club badge is anyone's guess. Anyhow, this club have always kept their feet on the ground. The ground has changed little from the first team visit in 2015 or in half a century really, though the World War 2 scaffold stand and the 1930 Dutch barn now sports smart new covers.
This was Radio Hereford's third U18 visit to Lye. The first was a dispiriting 5-0 defeat, the second an 8-0 victory with debutant Harrison Summers scoring a late hat trick. This time, who knew? The home side had won all their League match. Yes, played one, won one against the League's weakest side so that was no guide. Hereford had played two, drawn two. Lye were 7th, Hereford 8th, while they played catch-up with games.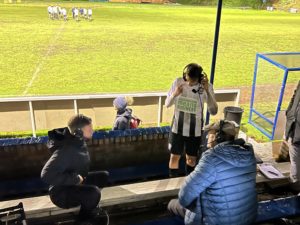 The Hereford squad were short on numbers. Holidays, suspensions, illness, non-availability of the U16s etc. Still, 12 players rolled up which is one more than at Dudley Town. Our six ever presents were all counted in which provided a central familiarity. A willingness to play in an unfamiliar role also helped the cause as the squad has far more natural attackers than defenders.
We must say thanks to the generous parents who provided the broadcast team with coffee at half-time, it was much needed guys. And to Halesowen Town's new media officer, Matt Ponter (not a bad swap for a player) for adding his skills and bad jokes to the commentary.  I think we've missed them. All the broadcasters were relieved that Lye's Nziradzemhuka missed the game.
Wide man Charlie Jenkins put Hereford ahead after ten minutes. It was one of those swirling free kicks which somehow eludes everyone and finds the net. Charlie briefly became club top scorer. Possible question marks against their goalkeeper? Lye tried to up their game but found a Hereford team in determined mood all over the pitch. An early injury meant a second ever outing for Jacob Martin, who happily slotted into the back line like a veteran alongside Will Morris in his third game. With 24 players involved this season, the Community Engagement side are living up to their name. Hereford were keeping possession (as best they could on a badly sprung trampoline of a pitch) and were consistently making accurate passes. The Fliers were all too often being grounded.
Teddy Mee added a second after 31 minutes, a peach of a goal, curving the ball around the goalkeeper into the top right-hand corner. "Who scored? Mee!" was dusted off again by the broadcasters. Hard to imagine that Teddy used to play rugby for Luctonians. Dad Nigel later admitted his passion for taking pictures of men with odd-shaped balls (he's the photographer for Lucs).
All over the pitch, young Hereford were excelling, working hard for each other. Full back Jackson Thomas in his second game (thanks to the Welsh FA for the delay) and a winger by instinct, subdued Lye's dangerous No 10 Walters so much that he was taken off. Rory Thompson, Adam Lewis and Cameron Davies charged forward at every opportunity. Both Davies and the well-built Arthur Bell battled for 90 minutes in a soggy midfield area.
Although Lye did their best to break through, they could do no better than hitting the side netting. The young Bulls counter attacked so often and so effectively, they were unlucky, especially Teddy Mee, not to add to their score. But 2-0 it finished. Mee and Jenkins are now joint top scorers with 2 each. Zach Johnstone had the same number but his goals were in an abandoned game and don't count. Goals are shared around – it's a community side, see.
Credit to Lye for a decent pint of Shipyard and their lavish post-match food. Small world, the barman is a near neighbour of mine.
Next Game: Home to Stourport Swifts FC at Wellington FC on November 2 at 19.45.
Radio Hereford FC aren't able to cover this. Hopefully HFC Community Twitter will provide updates.
Hereford team: Atkinson, Jackson Thomas, Lewis, Morris, Bennett, Thompson, Jenkins, Davies, Johnston, Bell, Mee: Rolling Substitutes – Martin Jenkins, Lewis and Mee, who all took time out although Mee's break was only a minute.