Supporters of Hereford FC are awaiting news of further additions to the Bulls' squad.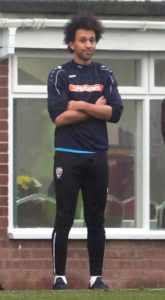 So far striker Tyrone Barnett and defender Zak Lilly are the only new faces at Edgar Street with boss Josh Gowling happy to play "a waiting game as players start to filter down" into the National League North.
The Hereford manager is pleased by the supporters backing through new season ticket sales and with the club squad builder initiative which has now reached £35,000.
"It's been really encouraging to see that season ticket sales and squad builder donations are really starting to mount up, and that helps us massively when planning ahead of the season.
"I'd like to say a great big thank you to everyone who has donated so far or purchased their season tickets. I'm also aware that our commercial sponsors are also getting behind us and renewing their deals, so I'd like to thank each and every sponsor who has committed to the new season early.
"We're working hard to improve the squad and push on from last season, but it means that some of the players we're after are also in talks with clubs higher up the footballing pyramid. It's going to be a bit of a waiting game in some cases, until players start to filter down into this league.
"I'm more than happy to make tough decisions in order to get the best value for money from our budget, and I'm very confident that we'll get a squad together that will be an improvement on last season.
Gowling believes both Lilly and Barnett will make an impact at Edgar Street, "Zak has bags of potential and at this level and has plenty of experience. He's strong in the air, good on the ball and has the confidence to succeed at this club. I'm looking forward to working with Zak because he has the attitude to want to push on in his career.
"Ty has bags of experience which will help with some of the younger players. He is exceptional in the air and will bully defenders at this level, he offers us a striking dimension that we have been missing".
Assistant manager Steve Burr is also quietly confident about attracting players that will make a difference this season. Speaking to the Hereford Times this week, Burr confirmed that some of the Bulls' targets have both Football League and National League experience.
"There are a number of lads who're in for pre-season who are a mixture of players that have been involved at Conference or Football League level. It will be an opportunity for those lads to show us what they are about."
"We are negotiating all the time at the minute. At the moment I personally feel there will be some exciting times ahead this season.
"I can see a lot stronger squad being assembled and we're going to have a right go at being up there again."
So far the Hereford squad comprises 9 senior players:
Jared Hodgkiss, Zak Lilly, Luke Haines, Harry Pinchard, Ryan Lloyd, Ryan McLean, Miles Storey, Tyrone Barnett and player-coach Yan Klukowski.