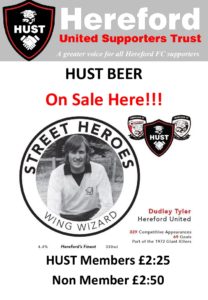 Following the success of the Street Heroes Beer launch HUST has continued to work with local brewery KelPaul Brewing Co and together they have produced their second ale, called Wing Wizard which depicts the former Hereford favourite Dudley Tyler on the bottle sleeve.
HUST hope to extend the sales of the beer through local outlets, in addition to direct sales.
Wing Wizard is an amber coloured bitter style beer with HUST happy to announce that under their recently launched Community Partner scheme three local pubs and clubs are already on board and these will be stocking and selling the beer for HUST from Monday 13th February.
The local pubs/clubs are:
The Beer In Hand, 136 Eign Street, Hereford HR4 0AP www.beerinhand.co.uk
The Victory, 88 St. Owen Street, Hereford HR1 2QD  Victory Pub & Hereford Brewery
The Snooker Centre, Coningsby Street, Hereford HR1 2DY www.herefordsnooker-pool.co.uk
The beer will be sold at £2:25 for HUST members, (take your membership cards) or £2:50 for non-members.
HUST say they are very pleased to have these Community Partners on board, and are hoping members will show their appreciation and support those partners as best they can.
More details on our Community Partners scheme can be found on the HUST website www.hufctrust.co.uk/community
Keep a look out for future lines including a cider and 500ml bottles.
Initially they have 150 bottles of the Limited Edition 4.4% amber coloured bitter style ale will be available for supporters to purchase with all profits going to HUST and UITC.
The bottles are 330ml and will be available to HUST members at a discounted price of £2.25 per bottle, whilst for non-members the price will be £2.50 per bottle.
Due to licensing laws, HUST are working with local publican, Mayor and Hereford FC fan Jim Kenyon to arrange collection and purchase of orders from his pub 'The Victory' in St. Owen Street Hereford (opposite the Fire Station). HUST will be taking orders via email and will arrange for the orders to be collected from The Victory, therefore, any supporters who wish to purchase some bottles they should email their orders to russell.cheasley@hufctrust.co.uk together with their HUST membership number to claim their discount and to provide full contact details. HUST will then be in touch when the order is ready to collect.
It is hoped the beer proves to be a big hit with supporters as more varieties are in the pipeline, with many more former players named as 'Heroes' on the bottle labels. HUST also hope to extend future distribution and enable online sales.
If you would like to find out more about the KelPaul range of beers please contact kelpaulbrewco@gmail.com
Please Enjoy and Drink Responsibly
The Challenge 25 Age Verification Scheme will be operated on collection.
Thanks also go to: Ed Kowal for the label design https://www.facebook.com/edkowalcreative/
Jim Kenyon for supplying the Licence under the Licensing Act 2003 https://www.facebook.com/pages/The-Victory-Pub-Hereford-Brewery/