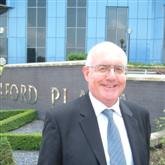 HUST CHAIRMAN'S NEW YEAR MESSAGE TO SUPPORTERS
A Personal View by Richard Tomkins
Thanks to all Hereford FC fans near and far for their tremendous support of our beloved club. It's not that long ago when all seemed lost, but thanks to great efforts, we still enjoy watching the Black & White at Edgar Street. The atmosphere at the Evesham match was electric!
May I congratulate Ken Kinnersley on his appointment as the new HFC chairman. I wish him every success in what is a vital and challenging role, and I'm sure he will maintain the progress we have all enjoyed together. I hope to work with Ken to enable the Football Club and Trust map out the pathways that will be needed to ensure we both achieve the targets that were set out when HFC was founded.
Years ago, the supporters' organisation of the day, HUISA, were criticised in some quarters for purchasing shares in its football club. Today, its successor, HUST, has an open door to gaining a large stake in the new football club. I believe we should firmly embrace this principle. Supporters as stakeholders helped save the day back then, and supporters having a voice in the new club must surely be the way forward. We have moved from being a protest group to being an integral part of keeping football at Edgar Street.
Success on the field leads to increasing needs for off the field assistance. There is undoubtedly a 'pool' of Hereford supporters out there who have skills, talents and ideas that can be tapped into. Through HUST I will be endeavouring to help identify these opportunities and I am convinced that with HFC and the Trust working together our club can prosper.
As current chairman of HUST, I am determined to drive forward with the fund-raising initiatives, events and promotions that we have identified. I hope we will be able to assist some of the club's projects over the course of the longer-term lease.
May I wish all HFC supporters a Happy New Year.
Let's be 'Forever United'.
Richard Tomkins
Chairman, Hereford United Supporters' Trust