Ayr Manager Brian Kerr: "Andre has sort of bounced around clubs since leaving the WBA Academy."  Four clubs later, our new arrival is still bouncing. Something needs to change.
Our new attacker was born somewhere within the Sandwell local authority area (ironically the same area as the striker he is replacing, Miles Storey). He joined the Albion Academy when he was 14. His team mates included a young Dara O'Shea. His loan spells were reasonably productive, including two goals for League One Coventry City but as for so many young players, being told he didn't have a future in the big time was hard to handle.
Subsequently, he's played for fifteen clubs professionally, had trials with many more yet he's still only 25. Home is Birmingham which is not perfect when the work is Torquay or the West coast of Scotland. The constant change of workplace, living accommodation and regular rejection must be taking a toll on his mental health. And confidence. An increasingly scratchy footballing CV (last goal in England was in 2017) inevitably leads to awkward questions and the familiar request to "prove yourself via a trial." Not easy being a jobbing 'baller. Think of the difficulties of maintaining a relationship while bouncing all round Great Britain and finding a second job to keep the bills paid.
"I struggled to find my feet after West Brom," admitted Wright to Dublin Live. "It was hard to get somewhere stable because I was bouncing around non-league teams. It's such a cut throat business in England. I was a young player going into these teams with a specific way of playing and managers under pressure.
"Some players adapt really quickly and kick on straight away. Others take time to process it and get used to other styles of football.  Non-league in England is very direct and very physical and that was completely different to what I was used to. These are not excuses, but each player takes time to adapt."
Wright continued: "It was all about results and if you didn't fit into their way of playing, that was it for you. Managers in England are now getting sacked after two or three months – it's gone crazy.  They need results asap. I just struggled with it. I was searching for the right place as I want to be at a club where you feel at home."
That place was Bohemians. He was signed by Bohs after impressing in a friendly against Chelsea in the summer of 2019. He bagged four goals in the record 10-1 win over UCD and finished as the club's top scorer in 2020 with eight league goals and was named in the PFA Ireland Team of the Year. There was even a full game in the Europa League against a little-known Hungarian outfit.
When his contract expired, the Dublin-based club were keen to keep him but Wright wanted to return to the mainland. "Not happy", apparently.  Regrets, regrets.. His departure statement was impassioned. "Goodbye to Bohemians.  It has been nothing but an honour to play in a stadium with some of the most passionate true-hearted fans I've seen in my career. "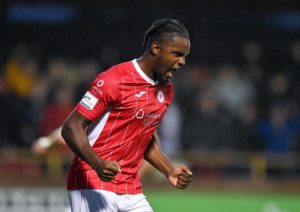 The prospect of a full-time contract with Kilmarnock in the SPL may have aided his decision. Sadly, liked so many of his trials, the outcome was not positive. Neighbours Ayr United of the Championship offered a short-term deal. For whatever reason, Wright had only 254 minutes of first team action in Scotland. Not much return on his four months residence. Andre returned to the familiar territory of the League of Ireland and Sligo Rovers. More bench sitting interspersed by 346 minutes on the pitch. Then to AFC Telford where he could at least live at home and commute. Same again, just 297 minutes with the Shropshire side, just brief cameos off the bench. Hence another move.
Like any other workplace, a football club is about people and relationships. Happy players are better performers. Josh's psychology skills could be so important and also remembering what Wright could do when they were team mates at Torquay. Said Andre (or just Dre as he prefers): "People have a pre-conceived idea that I'm here to hold the ball up but I can surprise folk. I like to think I have more to my game than that."    
You wonder how many variants of those words he's used.  It's in everyone's interest that Wright impresses during the rest of this season and land a deal for next term. But if he doesn't, he would be wise to stop chasing a dream, chose a new career and play at Step 3 or below close to his home.
By Simon Wright