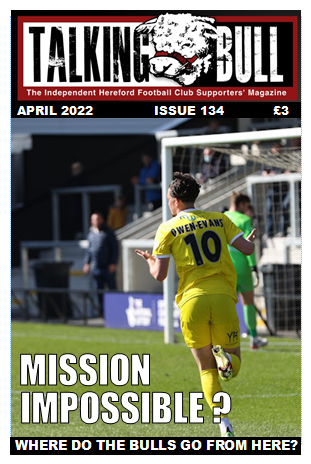 Talking Bull, the Independent Hereford Football Club Supporters' Magazine, is BACK and IN PRINT!
The latest printed issue of Talking Bull, will be on sale at Edgar Street on Friday afternoon prior to the match against Telford, but get yours nice and early as when they're gone – they're gone!
Issue 134 follows on from our special Giant-Killers issue in February which completely sold out in printed form – not just once, but twice as demand totally outstripped supply. Your support has enabled us to sponsor two matches at Edgar Street already this season, and we are delighted to confirm we are the match-ball sponsors for the clash with Telford.
That was after the production of an amazing 13 free digital editions during lockdown – certainly the UK's most prolific football fanzine during the COVID period.
This bumper 48-page edition is packed solid with content, as we take an in depth look at the budgetary implications as laid out by the club chairman Jon Hale, but our contributors are concerned. They claim going ahead with a plethora of non-contract players might not be a sensible path towards success. Have Hereford peaked in the National League North?
This summer will be the 50th Anniversary of Hereford United's election to the Football League. We re-live the drama of the day the Bulls finally made it after years of striving to reach the elite. Barrow were the club ejected from the League on that fateful day, and we look back at the local and national reaction.
We also bring you the best from our plethora of contributors; with more new writers making their Talking Bull debuts!
This issue of Talking Bull retails at the normal price of £3, but if you are unable to visit Edgar Street or watch Hereford 'away' games when the fanzine is often on sale, why not consider subscribing, or downloading a digital copy at £2.99.
Subscriptions are on an eight-issue cycle, and you are reminded ahead the final date of this period, thereby ensuring you don't miss a copy of Talking Bull, the best fanzine in Non-League football.
Digital and Printed copies are available NOW via our online shop.
Better still, why not collect your brand new issue outside Edgar Street ahead of the Telford match – whilst stocks last.