Hoping to boost the Bulls Mancunian talent quota is third city born and bred Dominic McHale.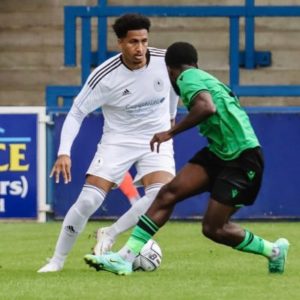 Dom was let go after five years in the Manchester City Academy (though City is very much his club even now). Joining Barnsley FC sounded like a sensible move, but he apparently reacted badly when he realised that he wouldn't be playing regular first team football. Talking to the Shropshire Star, looking back on his early days "the stress of working as a footballer at a young age was tough and I'm not ashamed to say that."
Dominic strove to play where he was wanted. By the age of 24, he had already amassed 15 clubs. Mostly "just playing with mates". Clubs you've never heard of such as Northwich Manchester Villa, or a Cypriot Third Division club. Again, talking to the Shropshire Star, "I look back now and think what was I doing? I never thought they would all end up on Wikipedia."
Football maturity arrived a little later for this attacking wide midfielder. A widely circulated 2015 internet video shows McHale being sent off for Ramsbottom, though he appeared to be no more guilty than most in an injury time mass brawl. The wide man kept on moving. In 2019 alone, he played for Ashton United, FC United, Oldham Athletic and bottom of Step 3 Romford. The latter suggesting a certain desperation.
In September 2020, the Mancunian happily landed 2 jobs. A full time 16-18 year old development coach role at the Manchester Academy for Pro Direct at Platt Lane.  That's the old City training ground, now owned by Manchester Metropolitan University.  He no longer has to solely rely on working as a self-employed coach using his UEFA B licence.  And secondly, AFC Telford took a chance on his potential with a one-year deal.
These guaranteed sources of income were a big relief for the expectant Dad. Malaya McHale born in November. Two days after becoming a father, McHale made his first start and scored against Gloucester. "He was awesome, he was unplayable. I think three of their players got booked trying to chop him down," said manager Cowan. Before the season came to a covid related early end, McHale had scored 7 goals, despite often having to wear a particularly lurid pink kit. His You tube show reel demonstrates what he can do at his best, running at defenders on either wing and finding the net  https://www.youtube.com/watch?v=0vsIxhm97PU
After signing a new Telford contract last summer, he told reporter Liam Holland: "It'll be nice to be here, stay at a stable club and progress really. Finishing off what we tried to start last year."
Early season was steady. There was a 9-minute cameo against Hereford FC (whilst Zac Lilley sat on the bench yet again) but a dilemma arose that winter. Dominic maintained he had pains in his hip and groin and felt unable to train fully but scans didn't offer a clear solution. The Mancunian was out of the team. His last appearance was on January 3, the last of his 837 minutes in a Telford shirt. A local reporter pointed out that both the current and the previous Telford manager encouraged the winger to "work on his fitness." McHale was released from his contract in March. Remembering how he ripped them apart back in November 2020, Darlington took a short-term punt which was to only last for two games.  Since then, the 26-year-old, who lives in the Eccles district of Manchester, has been a free agent.
In a conurbation which drips football clubs, outsiders will be surprised that the winger is trying out with one of the Divisions most Southerly clubs. No doubt Josh's recognised policy of panning for gold among the overlooked and disadvantaged is key here. If Dominic Mchale can find a way to recreate his best Telford days, then Josh's interest might be rewarded. If he can't, then coaching could be his best career option.
Simon Wright