After 4 straight home wins, our charging Bulls are in determined, if not rampant, form and next up are Curzon Ashton at Edgar Street in the National League North this coming Saturday.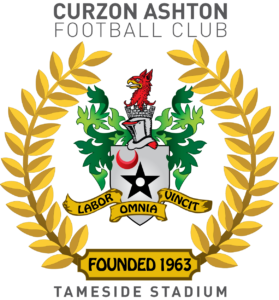 Our visitors prove year after year that you don't need a benefactor to compete at our level. Even with such a comparatively small income, the Nash are in their ninth season at our level and are rarely in danger.
They are a co-operative completely owned by their members with all funds re-invested in club infrastructure. Their last accounts (2022) make interesting reading. Their total receipts through the gate were £64,000. To which they added £61,000 profit from their cafe and £82,000 from their bar. Clearly they like a drink in that part of the world.
Overall, they had a poor year by their standards losing about £65,000 on a turnover of £750,000. That's a lot of money to retrieve and you wonder whether they'd had serious cutbacks since. Generally, Curzon are very careful with their funds and near enough break-even year after year.
Being surrounded by bigger fish, the Nash are regularly cherry picked for talent. They are fairly used to losing players but were surely taken by surprise when Kings Lynn wanted their management team just a few weeks ago. As usual, the lure of full-time football was hard to resist. But notice the speed? Lynn sacked Mark Hughes and appointed Adam Lakeland 3 days later. Draw your own conclusions.
New Gaffer for the "foreseeable future" is vertically challenged wide midfielder Craig Mahon, yep, a player-manager. Rare at this level. Mahon (34) is Irish and has played over 100 times for Curzon. He's best remembered for his 200+ games for Chester over a 7-year period. His day job is Early Years Officer at Wigan Athletic Academy, which sounds a similar role to Jan Klukowski at Forest Green. Just to ensure the new boss doesn't have a moment to himself, he's dad to 9-year-old twins.
Mahon with 3 goals is second top scorer, behind only fellow midfielder William Hayhurst. None of the forwards are regular net finders. Miles Storey isn't (and probably never will be) a regular scorer. He's 29 now with his 10th club and has one goal and 3 bookings to show for his participation in around two thirds of games. You might expect more from their best-known striker Jimmy Spencer (ex Farsley) or their resident big bloke George Waring but no, they're not firing either. They've all played in four different positions this season which suggest rotation to confuse the opposition.
Team selection is straightforward. Pretty much the same side is fielded every match. There are 7 ever-presents with others only missing one or two games. Just how good is the club physio? Or not so good? Flight of whimsy "Nah, he's still got one leg functioning, he'll be fine for 90 minutes."
Recently, they knocked League leaders Tamworth out of the FA Cup so like us are in FA Cup First Round action nrxt week.
Alarmingly, the 5th placed Nash do travel well. They are unbeaten in 5 games on the road. Draws at Buxton and Peterborough add to decent wins at Darlington (3-1), Warrington 4-1 and most impressively 2-0 at Brackley. They are far less effective at home but that's not relevant right now. Pair that with the ominous statistic that in four Edgar Street matches against the Nash, Hereford have only picked up two points. There is something almost Southport-esque about our Tameside opponents who always seem to find a way to frustrate us. Arguably not this time with our immovable Caddis Wall.
Be there. Support Your club.
Curzon Ashton (ticketco.events)
Simon Wright