After Tuesday night's victory over Gloucester City the Bulls now face a cross-country route to King's Lynn Town at the weekend. Hereford remain unbeaten after the opening two matches, and it will be interesting to see how well the Linnets have prepared for the National League North following their promotion. Here is the comprehensive Talking Bull Away Day preview from Simon Wright.
Just over a year ago, Kings Lynn lost the Play-Off Final at home to Slough, despite being clear favourites. As a consequence, the Bulls ended up in National League North rather than South, which created all sorts of complications and we struggled to adapt.
I've already suggested to Club Secretary Martin Watson that as Kings Lynn's shortcomings left us in the North, they should do the decent thing and pick up the overnight bill for Hereford players and supporters alike. Cue the music for Mission Impossible.  I don't think Martin fancies that conversation even though Lynn's owner does own a nearby hotel.
Ah yes, the Kings Lynn's owner. When an entire Club Board have previously been disqualified from being a director, alarm bells jangle in Herefordshire.  Admittedly, the Board does only consist of one person. Fair to say that owner and total Board Stephen Cleeve is a "controversial" figure.  As supporters, we are not going to forget how he raised the admission prices for our last visit. Many of our travelling support that night retaliated as best they could by refusing to spend any money at the Walks.
The Walks is a seriously old ground first used for football 140 years ago. It still retains the generous proportions of decades gone by. That said, hard to imagine how 13,000 once squeezed in for the visit of Exeter in the FA Cup. Nowadays, a capacity of 5,000 looks more realistic. It's an academic point, given that the Linnets averaged 712 supporters in their promotion season, down 9% from the year before. I guess they missed us.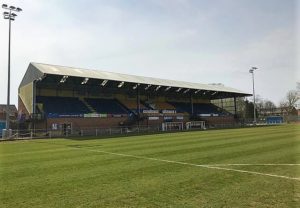 A quick stadium description for anyone who hasn't previously travelled.  The vintage 1956 grandstand has 1100+ seats on one touchline with a huge covered terrace on the opposite side. There are open terraces behind the goals.  Here's a curiosity – The original seats in the stand were sold to Hereford United when they were promoted to the Football League.
Any reference to the Clubhouse will probably end up with "here's what we could have had."  The Linnet Lounge, at the far end of the grandstand, is spacious with 50+ seats and Sky TV. On sale is IPA, Carlsberg, Somersby cider and a very good Bellhaven stout.
No parking at the ground and very limited nearby. Town centre car park like St James Car Park in Clough Lane charge £4, requiring a walk to the Walks. It does make a pre-match town centre pint possible. Fenman, being opposite the station is handy but has no real ale.  The gem is the Crown and Mitre in Ferry Street. Five real ales.  Or try the local Wetherspoons, the Globe.  After our last visit, the only people in the Spoons were Hereford supporters. Strange place, Kings Lynn.
With promotion in mind, last time the Linnets reached Step 2 in 2009, they ran out of money, failed ground standard test and closed down.  Things are different now, according to their website "King's Lynn Town FC is proud to be different and aims to remain sustainable and continue its growth purely from the revenue generated through ticket sales, sponsorship and other auxiliary incomes." Allegedly.
The last club balance sheet showed a deficit of £162,000, £70,000 higher than the year before.  To add to their woes, £30,000 is required to cover ground improvements to meet requirements for Step 2.  One wonders whether history might repeat itself.  The work is mainly around setting up a proper segregation area, with a separate turnstile block, refreshments and toilets. The double turnstile block alone costs over £6,000. Who knew?   Having invested in a shiny segregated area, I fully expect our support to be corralled within it on the basis there was some after-match unpleasantness after our last visit.  According to their local press was wholly the fault of the visitors.
Here's the bad news. Admission is £17 for seats (£15 for over 65's) and two pounds less for terraces. Under 16s are £2.  These are very top-end prices, second only to York in our Division. Just for comparison, I checked against Walsall FC prices in League Two and they are virtually identical.  I understand why Lynn feel they need to charge so much (and by the way, their season tickets are £290. That's higher than Birmingham City.) but I'd argue that is counter-productive. Home supporters are being priced out, never mind visitors. A mature Hereford-supporting couple will pay £34 just to get in, on top of considerable travel costs, for what is second tier Non-League football.  That's simply too much.  I wonder whether there is scope to copy the professional game.  In the Championship, clubs who have long-distance away games often come to a mutual arrangement to dramatically reduce admission to visiting season-ticket holders. As a result, more people travel and the goodwill engendered means those travellers will spent more, to make up any financial shortfall.
During our last Championship season, we had two bruising battles with Kings Lynn and annoyingly lost them both, out muscled and out-thought. Surely the new reinforced Hereford FC will be rather more streetwise.
Most of the Lynn squad have since moved on, with both their full backs staying on their feet long enough to move into the Football League.  Six players still remain, names which still send a bit of a shudder through our regulars. To their credit, most of the remailers are local blokes.
In goal is Pedro as he's universally called, even though the name Alex Street appears in the programme. He's local, cleans the streets of Lynn ("Street of the Streets?") among other jobs during the week. Now in his testimonial season, he is accused of making too many errors last season.
Defender Ryan Fryatt and midfielder Michael Clunan are both Lynn born and bred.  Two more long-term Ryans are also Norfolk-born. Ryan Jarvis has 500 games in his career and distributes herbs for a living (not those sort) Ryan Hawkins was a thorough nuisance up front against us. He's best known for receiving an injury so serious during the Cirencester v Kings Lynn game that the Air Ambulance had to land on the pitch to treat him. He had a seven-inch gash in his leg.  I hasten to add not his striking partner Michael Gash though said striker did cause us a lot of pain. Michael Gash isn't from Norfolk, he was born on an air base in Germany.  Think of him as the Linnet's riposte to Reece Styche. Mature, regular scorer, been around a bit.
Lynn's standout man last season was striker Adam Marriott.  He joined the Linnets in October when they were struggling. Weeks later, manager Ian Culverhouse returned for a second stint and between the two of them, turned the club around. Marriott scored 27 goals, including 3 in the Play-Offs and won the Southern League Golden Boot. Supporters with longer memories may recall Marriott used to play for Royston Town.  He is the only Crows player to ever score against Hereford FC in 3 attempts.
Linnets have made 5 new signings so far.  Only two of the 5 have Step 2 or higher experience.  Nathan Fox is their new left back. He's only 26 with 14 clubs behind him, so doesn't sound like a long-term signing.  Lynn, probably through necessity, manage with a small squad.
Among the usual hype on the Linnets website, there were some surprisingly honest words from Mark Hearle, Head of Media:
"Season 2019/ 20 is solely about one thing – survival. Surviving in a league with a handful of full-time clubs.  Surviving the many hours that will be spent on numerous northern road trips on wet Saturday afternoon's to far flung reaches of the UK. And surviving the experience of being very much a small fish in a big sea, something some may not be accustomed to. This is the reality."  A reality bought home by a comprehensive 3-0 defeat at Guiseley in Match One. However, this was followed up by a 2-1 home victory over Kettering, and so what will reality bring on Saturday?
And finally, here's an intriguing quiz question.
Which Kings Lynn squad member holds a world record?
The answer is 47-year-old assistant manager and occasional emergency goalkeeper Pail Bastock. He's played in goal 1,279 times in league and cup competitions.
We're Getting There
BY ROAD:  A very long 175 miles (PE30 5PB) via A14, A605, A47.   If you think we have it rough, consider our recent hosts Bideford, a former Step 3 club who had Lynn in the same League.  They had to gather their players after they had finished work on Friday night before traveling to Norfolk. The travelling took 7 hours, arriving at 2.00am, Saturday morning before crashing out in their hotel. Their combined bill for coach and hotel was over £4,000.
BY TRAIN:  Hopeless from the Shire. A straight two hour run from London Kings Cross. Station is only a 5-minute walk from the club, straight across the park (King's Lynn Walks).
BY COACH:  Against his better judgement, Reg was persuaded to try to run an executive coach to Kings Lynn. To his own surprise, he's close to getting the numbers he needs. If you are Shire based and fancy Kings Lynn then do travel with Reg. Visit Hereford Awaydays Facebook page for more.