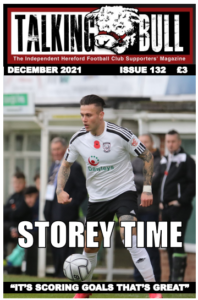 Despite freezing conditions on Saturday we have only 23 printed copies of the latest edition of Talking Bull left!
So, if you don't want to miss out, order today via our online store, or alternatively the remaining copies will be available on a first-come-first-served basis ahead of the Hereford vs Kettering match on Tuesday evening, 30th November.
Talking Bull – Online Shop | Talking Bull
Don't forget you can avoid postage & packing costs by ordering a digital copy instead.