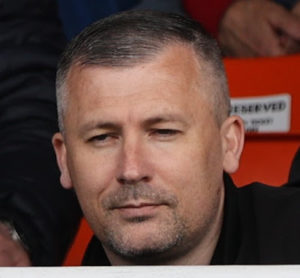 Paul Caddis, the new Hereford Football Club manager, will be taking part in a Fans' Forum in the RE Resource Hereford Suite on Tuesday 2nd May, starting at 6:30pm.
Caddis will be joined at the event by Hereford FC Chairman, Chris 'Stig' Ammonds, and General Manager, Jamie Griffiths, but the main focus of the evening will be the opportunity for supporters to put their questions to our new manager and listen to his thoughts having been appointed to his new role last week.
Speaking about the event, Ammonds said: "We wanted to give supporters an early opportunity to hear from our new manager and Paul was only too happy to put this date in the diary. I'm sure our fans will really enjoy listening to Paul and while it will be very early in his tenure, I'm sure he will be able to give an interesting insight into his plans for the club and how he sees things developing from a football point of view.
"Jamie and I will also be in attendance at the event to answer questions about off-field matters, but I've no doubt people will be far more interested in hearing from Paul than either of us!"
Doors will open at 6pm with snacks, pies and pasties available to purchase from the bar.
For those unable to attend, the event will be streamed live via the official Hereford FC YouTube Channel and on Radio Hereford FC.