From the Talking Bull archives…Simon Wright recalls the first time he entered Edgar Street.
In 1970, Hereford was a city lacking in attractions. Admittedly, there were two cinemas but both had only a single screen. No leisure centre, just an elderly swimming bath. One night club with a reputation, no child-friendly pubs, no Sunday shopping, no late night shopping, no theatre, no bowling alley, limited restaurants, and strict pub licensing laws.  Telephones were comparatively rare with public phone boxes much frequented.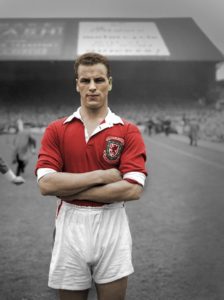 But there was a football club. Hereford United were the talk of the town and a huge source of local pride, not least the reflected glory of being managed by the great John Charles.
In this era, if you want to see 90 minutes of football you had to go to a game. Only the FA Cup Final and bigger International matches were shown live and for most this meant watching in black and white. Every Monday and many Thursday in the playground of Marlbrook Primary School, my classmates who'd been to Edgar Street and wanted to show off. Anybody who was anybody supported United and of course they always won in style.  In the pick-up playground matches with a tennis ball, the first argument to resolve was always who was going to be Billy Meadows.  With the benefit of hindsight, it's extraordinary to recall just how many from my class were apparently regular attenders.  There was an additional weekly reminder as school swimming lessons were in the Edgar Street Baths (where the Courtyard now sits). Cue another discussion about "going to the game."  I was so envious. I felt I was missing out and I wanted to go too. Cue pester of parents.
My Mother was shocked at the very idea. "You'll be crushed" she exclaimed in horror. Repeatedly. Her experience of football was limited to the occasional news snippet of goals being celebrated at Anfield or Elland Road and the subsequent terrace surges. She didn't grasp there was a difference between the First Division and the Southern Premier League.
But my Dad was quietly supportive. I had no clue why at the time as he'd never really shown much interest in football but I went with the flow. He was a draughtsman in Henry Wiggins and it was only much later I realised that he'd also been on the receiving end of peer group pressure from his workmates. Much later still, I discovered he was a regular attender at the Hawthorns in the early 1950's when the Albion of Ronnie Allen, Ray Barlow etc were simply outstanding. My Dad discreetly fancied a return to the beautiful game but of course, he was only going for his son's benefit.
The main barrier was Saturday shopping, the only day when it was practical to do so in our household. My family did have some food delivered weekly by the local grocer – sometimes by John Davies, Fred Potter's understudy – but the bulk of it had to be on Saturday. Thus it was midweek games only (though that proviso didn't last long). In 1970-71, there was no shortage of these. Thanks to participation in the Southern League, the FA Trophy, the FA Cup, the Welsh Cup, the Camkin Cup, County Cups and the Borders Counties League, there were 43 games staged at Edgar Street. United had 6 consecutive home games in December, in the space of just 24 days and yet the lowest gate was over 3,000. My debut was to be one of these – a Wednesday night against Chelmsford City in the Southern League Cup.
I was so expectant.. and proud too. "I'm going tonight" I made a point of telling all the United regulars in the classroom, most of which looked astonished. My Mother fussed over me, adding layer after layer until I resembled Michelin Man. No doubt Dad had been sternly told that son was not to be crushed that night. And then off to Edgar Street, a stadium unspoilt by progress. We parked the family Mini in the Meadow End car park and entered through the turnstiles to the Meadow End. And?  I just wish I could remember more. Records show a 1-0 defeat in front of 5,000 supporters. I can recall the big terrace steps on the Meadow End, mighty big steps for a ten year old. How packed the end was, I was picking up a little on the tension, especially one gent who bellowed continuously "come on Birdie boy. Come on Birdie" as encouragement to full back John Bird. I fear as a naïve 10 year old, I probably stared openly at the blokes around me. And the smoke .. clouds of it all around me. I was asthmatic at a time when asthma medicine was very poor. Thankfully, my lungs proved resistant. Had they not, my football support would have finished that night.
On the pitch, I remember virtually nothing. I vaguely being astonished, even a little afraid, by the size of Hereford's centre forward. I'd like that figure to be John Charles but equally it could have been Billy Meadows.
I have no doubt that Mother thought I'd learn my lesson after one game but I was having none of that. I enthused at length until Dad, with just the right amount of delay said "sounds like we'll have to go again, " Forty-five years later and many hundreds of games later, I still want to go again.
What was the first game you ever saw at Edgar Street? Who were Hereford playing? How did the Bulls get on? Why not write an article for Talking Bull about it? We'd love to hear from you. Drop us an email to editor@talkingbull.org