Josh Gowling, the newly installed permanent manager at Hereford, is already looking ahead to the upcoming season in the Vanarama National League North, should football re-start, as hoped, in September.
The COVID-19 pandemic has wrought havoc throughout football, but Gowling cannot wait to get to grips with his new challenge.
Budget planning and player acquisition go hand-in-hand as far as the new man in the Hereford hot-seat is concerned, but Gowling hopes he can attract higher-graded targets. This despite the adjustments part-time football can bring.
"Coming from a full-time background and moving into part-time football is a big transition for players. It's a major change for them to only train a couple of times-a-week, and in the evenings too.
"I feel Hereford can attract better players, but those who come in from full-time football don't necessarily adjust quickly. Some of our training sessions last year saw us finishing at 11 o'clock at night. That's a big transition for players who have been used to daytime training every day.
"Some of our competitors like York City are indeed training every day and as a result have an advantage. This gives the manager more time on the training pitch looking at match strategies and systems.
"It's definitely a very competitive league, and I feel that the full-time clubs reap the benefits."
Gowling will operate alongside the highly experienced Steve Burr, with the duo explaining they understand the limitations they will be tasked to work through.
"Our signings will be a reflection of our budget. When the club sets the budget, we will sign players accordingly. I feel the budget will be tight, and we will probably have to dive into the loan market.
"Steve and I have great contacts throughout football so we will be looking to bring some players in on loan so that'll lessen the financial burden on the club. I accept that it's going to be difficult – especially following the pandemic – but we've got to look at that as a challenge, and work hard in the transfer market."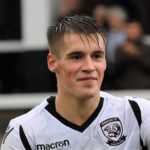 One player Gowling won't be able to draw on will be player-of-the-year Kieran Thomas who has linked up with Weston-Super-Mare as work commitments were a major factor behind the move.
"I had a long conversation with Kieran as he was a player I wanted to retain. His attitude was superb, but he's looked at his own personal circumstances, and we didn't quite fit for him right now. He felt geography played a part, and he wanted to move on. It's disappointing, but he's been a terrific servant for the club, and I'm sad to see him leave as he was a great character around the team."