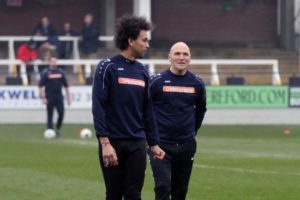 In his first full interview since being handed the role as manager of Hereford Football Club, Josh Gowling, looks ahead to a new start – and a new challenge – at Edgar Street. He expects the club to remain in the Vanarama National League North, but there will be changes – indeed, a reduced capacity in the ground could be a consequence of social distancing due to the coronavirus pandemic.
"I'm excited. It's something I've been gearing up to for a long time. I think I wore the Board and the Chairman down eventually. It's brilliant and I can't wait to get going. We've kept in contact with all the lads during this period – and they've been itching to find out what's been going on. We've got clarity now – so that's good. We can now start looking at trying to retain some of our squad."
The fans may have to show some patience with regard to new signings, but the new Hereford boss hopes a number of the existing squad will quickly decide to stay at Edgar Street.
"I've had a chat with all of the non-contracted players and told everyone who we want to keep. That's where we are at the moment, and the understanding is that it looks as though we will potentially be back in September. I'm sure the Board have gone away to look at budgets, so hopefully in the next few weeks we'll be able to nail a few players down. When we make some signings I'm looking to keep the fans involved with videos and interviews with the new players. That'll help the fans get to know the players earlier than having to wait until the season starts.
"However, we don't yet fully know whether we are starting back with fans fully in the stadium, or with some social distancing. Obviously, the Board have to budget accordingly. If we are working with social distancing in place then I think we will see a 1,600 capacity inside Edgar Street. That will then determine our budget, but with Steve and myself taking on the role I believe there will be a lot more positivity around – and there is certainty about our positions now.
"I will be looking for the players to come in and have some local community involvement. We will be announcing some initiatives to ensure we engage with the community. We hope to make the players more accessible as a group, and get the fans involved more. I understand the Academy has gone, which is disappointing, but that means I've got to work twice as hard now to encourage young lads to come in to watch the games and then hopefully they'll want to eventually play for Hereford."
Gowling is planning changes to squad training and facilities, with a move away from Hartpury College on the cards.
"I think we'll be back somewhere around mid-September. It's difficult as this will probably be the longest lay-off the players have had in their careers. We have to work out what works best for us fitness-wise, so we may have to come back to training a little earlier. A 5 or 6 month lay-off is a very long time and so we've got to factor that in. We will be giving each player a tailored fitness programme, so they should be able to return in good shape.
"We've got to look at training facilities and decide where we're going to train this season. So, there is a lot to consider, but we will make sure everything is in place. If you look at the Premier League and the Championship coming back, they've contemplated having extra substitutes – and even at one stage thought about changing how long each half was – and that was all because of concern over the players fitness levels. We may have some 'open-training' sessions at Edgar Street which will enable supporters to come in, watch, and experience what player training is all about. To get the pitch maintenance fund donations through so quickly was fantastic, and I know Ben Bowen and the ground-staff will do a terrific job."
The pandemic might actually prove to be pivotal for some players careers, he continued.
"It's a weird time for football but one good thing to come out of this is the fact that each player can re-evaluate their careers and assess where they're going. They have a chance to sit down and really think about what they want to achieve in football. We may see a genuine change in some players mind-sets as a result of the pandemic. Some players may find themselves at a level they never thought they would play at. This has given them the opportunity of really reflecting on things and hopefully give them the hunger and desire to come back and progress to the level and standard they want.
"I've spoken to each player about the level they are at, and we are going to set our targets as a team, and individually, and ensure we reach them. We have to get through this period and accept it as a positive for change.
"The lads that want to be here are really great. They want to play for me, for Steve, and for the football club – and we're looking to add to the quality that we have. It's time for us to take stock and progress. We're certainly going to improve on the last couple of years."