So, after two rounds of interviews and presentations…step forward the new manager of Hereford Football Club…Paul Caddis. An infectious personality. Hard working. Graft. Leadership.
We welcome Paul to the hot-seat at Edgar Street. He's going to need all of those attributes as his objective is the footballing equivalent of turning water into wine. The expectation upon the shoulders of the new arrival is immense and growing by the week.
Not having any previous experience in National League North isn't necessarily relevant. There are many more skills and attributes which are more important. Of the current top 7 NLN clubs, only one manager had "previous." Some of the most successful managers are in their first job. With every NLN manager in our geographical range already contracted for next term, I'd long thought our next gaffer would either be an ambitious no 2 or an academy coach.
Born in Kilmarnock, Paul was part of a large family. He has 3 brothers all of whom played football North of the border. But Paul was the star. He got himself noticed paying for Ayrshire Rangers before joining Rangers Youth. As a Celtic lover, he couldn't resist an offer from the Hoops to transfer across Glasgow. Paul played 24 times for Celtic under Tommy Burns, Gordon Strachan, Neil Lennon and Tony Mowbray before opting to move to Swindon. "I just wanted to play regularly and make a mark."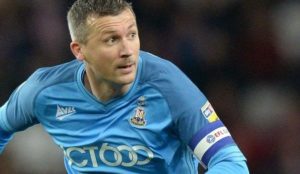 As a player, he generated positive vibes at every club he played for. His every move remains news for Celtic media and so too in Swindon where he was part of two promotion teams. Paul cites his council estate upbringing where football was never about money, just glory and giving everything possible to achieve that for his all-out playing style.
Highlights of his playing days included starting for Celtic against Barcelona in the Champions League and trying to mark Ronaldinho. Paul becomes the third National league North manager with European experience. Technically, he's a full Scottish international, coming on in the 88th minute of a friendly in 2016. And yes, his 93rd minute goal in the last game of the season saved Birmingham from relegation, a huge moment for him but a feat not exactly well received in the rest of the conurbation.
Paul is married with two daughters Summer (10) and Mynah (8) and they are based in Lytham St Annes. The family had a dreadful shock when Summer was rushed to hospital late last year. Tests eventually showed she has Type 1 diabetes. Fortunately, in the space of 72-hours, her condition improved and she is now back to her lively, bubbly self, but the incident was a real eye-opener for Paul and the family, and he organised a fundraiser to help others who may experience similar.
Until the end of this month, Paul is one of 18 International Football Studies Lead Phase Coaches employed by Fleetwood Town. He took up the post what was part-time (which may have become full-time) in 2022. Caddis said: "Broony has been top with me. I can go and watch the first team whenever I want. I'm getting involved at different age groups and he's been brilliant since he came in."
He was previously a self-employed coach (Paul Caddis Elite Coaches) working one to one with players. Paul holds a UEFA B licence and is studying for his A qualification. Talking to various media sources, Paul was clear that "Management is the long-term ambition, I'm just starting out but I don't want to be a coach or No2, I want to be a manager." And now he has the chance.
Simon Wright