Bradford (Park Avenue) have had a rotten season and their visit to the Street will surely be the last for the foreseeable future. It's been coming for a poorly supported club in a one-sided athletics stadium. The question ought to be how have they hung on in Step 2 for so long?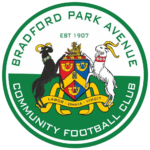 The answer is partly manager Mark Bower's clever recruitment policy of begging, borrowing and possibly stealing talented players, apparently within 'the smallest player budget in National League North." We'll have to take his word for that as few clubs publish their playing budget. The lowest marker we have is Curzon's public record £150,000 figure. Bower took over in 2016 and bar one brief period has been in charge ever since.
Even more important is the annual £350,000 loan or gift from 72-year-old American benefactor Gareth Roberts. Those gifts have mounted up. Their latest accounts show a deficit of £2.1 million with assurances that Roberts will not seek repayment until the club is in a position to do so. He may have a long wait. BPA Director of Football Martin Knight explained on the West Yorkshire football podcast that the 4G pitch and Academy had greatly boosted their income, with total turnover rising from £200,000 to almost £0.5 million. He thought breakeven point was about 12-18 months away. Until then, if Gareth Roberts stopped giving, the club would close the following day.
But the club's luck has run out and they will surely be relegated. Goal scoring is their problem. Martin Knight again: "we've been looking for a striker for 3 months. No-one wants to release anyone of any quality. We tried desperately to get a loan striker on deadline day. We tried 6 different clubs, we had money to cover two new players."

 
They'd released their top scorer Jacob Blyth to Darlington for a generous loan fee (Top is a comparative term – Blyth had scored 6 times) thinking that stand-in Brad Docherty could do the job better.. only for Brad to pick up an injury and be out for the season. PA have no specialist forwards left. The splendidly named Longbottom, `a midfielder, toils away up front. Reet propa name for a Yorksher club, Longbottom. He's 24, has only previously scored 3 goals in his career but has notched 9 this season.
Their recent record is that of a team who know they will be relegated and it may be us hammering in the final nail. They have rallied at home recently but only 4 points away in 2023 is telling. This is our opportunity to boost our poor record against the Bracket men. We've only beaten them once in 8 previous matches – our 3-2 win at home almost exactly 12 months ago. Despite the close-looking score, the Yorkshire side looked really disinterested that afternoon. Possibly same again?
Supporters on the same West Yorkshire football podcast talked about genuine discontent on the terraces, only 5 supporters traveling away and that confidence was rock bottom. They complained about the lack of extra investment and wouldn't be convinced that no-one would give away big money to a lossmaking poorly supported non-league club. The club official offered his resignation live. This is a candid, painful and insightful podcast, albeit rather long. Link at bottom of page.
Where Park Avenue are genuinely impressive is the size and scale of their Academy. They get daily use of the clubs' home pitch, have five full time staff and are now starting an U6 team. Two Academy players are already in the first team with Myles Le Bastide scoring and providing assists recently. Community engagement is the Bradford-born benefactor's no 1 aim and the Academy is the best way of achieving that.
Relegation means Hereford have one less 4G pitch to play on next term – handy as we will be gaining 2, maybe 3, or even 4, extra artificial surfaces next season.
For most supporters, the Park Avenue fixture will be the last time they see our team this season. It's been a frustrating season for us in many ways and one worth putting out of its misery. We can only hope for exciting new signings and a dynamic new manager. No pressure, guys.
Get to the Street this Saturday!