A Dane? That's a new addition to the Hereford FC World Squad. There's a potential fundraiser here, a club buffet with food supplied by the players, who each prepare a dish hailing from the country they identify with. For Andreas, he would presumably contribute polsers (sausage slavered with herbs and onion) though if he wanted to cook them in the traditional way with copious naked flames, there would be much consternation around the Street. Certainly worried me the first five times I saw it.
Of course, Josh Gowling lived and played in the double underlined country for two years himself so would have some common ground and maybe some Danish words to bandy. Generally though, more Danes make the effort to speak English than the other way around.
Andreas started his career within the Odense BoldKlub Academy (pronounced "oon – sa" – which is genuinely important to know if you wish to actually visit this charming town or their football club). Odense being the nearest big club to his home town of Nyborg, about twenty miles distant. Nowt to do with artificial intelligence, this settlement of 17,000 is extremely historic.
The claws of the Wolves got into him in 2018. The then 17-year-old was sold for an undisclosed fee (though there is mention of £400,000) on a 2.5 year deal. (The contract was later extended to the summer of 2024). Andreas explained to football podcast why he moved. "I'd only heard good things about going to England and, that's where you can learn the most. Especially with the environment, because it is a tough environment. And there are so many other keepers to compete with, and there's a lot of competition."
The 20-year-old has been the first-choice stopper for Wolves under-23s for the past three seasons. In his first season, he was the second youngest player to play every minute of the season and jointly held the record for clean sheets. Under 23s coach James Collins has also praised Andreas, calling him a "terrific professional". Andreas was involved in some first team training and was a squad member for a Europa Cup match. But for that positive noise, He has the no 62 shirt with his parent club hence the need for loans. Goalkeepers often have to wait far longer than most to play at a senior level. His could be a nomadic life. Whether he becomes a Great Dane is something for the future but Andreas is already a big Dane, a typically tall 6-foot 2 Scandinavian blond.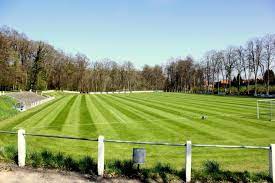 His parent club helpfully loaned him to Randers FC for the first half of this season. The Superliga club, already in the Europa League Group stage wanted extra cheap goalkeeping cover just in case. Andreas was effectively surplus most of the time though he did make an appearance on October 28 in the Danish cup. The opposition were a splendidly named lower League side Middlefart Fc who not surprisingly play at the Middlefart stadium (pictured). This was an easy 4-0 stroll so not exactly a chance to shine more an obligation paid. The Danish 'fart' translates roughly into English as 'speed' or maybe 'pace'.
Andreas was third choice and being a novice meant he was highly unlikely to replace the Randers 30 year old experienced first choice keeper. The Superliga closes down for the bleak midwinter in early December so Andreas needed a new challenge. Playing with the bomb squad behind closed doors in U23 games in England no longer had appeal.
We shall see what transpires but there will surely be expectations that a young full-time Premier league goalkeeper is with Hereford to play not to train nicely and sit on a bench. Andreas is not at fault here. His agents New Era have expectations and the parent club may not be beyond twisting arms. Bull bullying if you prefer. "If you want any more of our younger players, you must give them playing time.."
And that's likely to be very hard on Brandon Hall, one of our senior players who has done little wrong this term (free kick aberration apart). Purely speculation on my part but what if there is a nod and wink arrangement for the loan to continue into next season if all parties are happy? We shall see.
Simon Wright
Pics: Wolverhampton Wanderers and Simon Wright