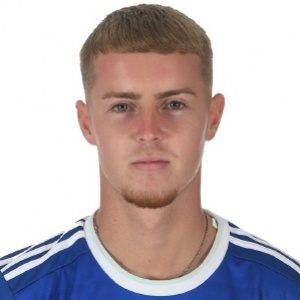 Another new loaner? And one where we have to put ourselves through the pain of international transfers again? Good heavens.
Keenan Patten is one of four young Cardiff City players "sent away to learn" at the end of January. He'll probably learn first about the slowness of paperwork progress. in Wales . Interestingly, one of his 3 other team mates was shunted off to Saint Johnstone – that's' proper learning!)
Being attached to Cardiff since the age of 9 can't be good for anyone. Keenan will be 21 in April and a regular for the Welsh U21 side. Great experience for him though you might fairly argue where else would Welsh selectors look other than the Academies of their two biggest clubs? Patten was described by his Academy manager James McCarthy as "a sitting midfielder but a ball player as well."
After many years of youth training with the Bluebirds, Keenan signed as a scholar during the 2017/18 season, followed by a professional contract in 2019 (extended in March 2021). At the time, he said to the club website "this is home for me. It's my boyhood Club and it's my goal to break through here. We're getting the opportunities in training and to be involved in First Team squads, and I want to work hard to be a part of that regularly."
His only previous experience in senior football was with Penybont FC in the Welsh Premiership. He played 12 games between August and November 2019. He scored once, a header against Airbus in a 2-1 win. There was also an assist and a couple of yellow cards throughout his spell. The loan was then interrupted by a serious back injury.
Since then, Keenan has played for the Cardiff U23's, most recently at the end of January. He was responsible for both goal in a 1-1 draw v Swansea- scoring himself and then conceding a penalty. He's also sat on the first team bench nine times without ever getting the managers nod. With a contract expiring this summer, Keenan needs to get noticed quickly. If not by his own club, then by another.
Connections? Harry Pinchard was a former team mate while current fellow Blue Jack Bodenham will have filled him in about the joys of Edgar Street. Cardiff born and bred Keenan hails from a footballing family. He is the younger brother of Robbie Patten (25) at Barry (also ex Cardiff Academy) and defender Kyle Patten (27) at Haverfordwest.
Simon Wright
Pics: Cardiff City