TALKING BULL GIANT-KILLERS 50th ANNIVERSARY COLLECTORS EDITION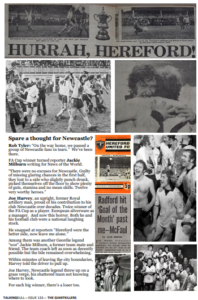 We are very proud to uniquely re-live the greatest period in the long history of Edgar Street clubs. This is our most ambitious project to date, and incorporates 68-pages of content, and required several hundred hours of effort. TB133 owes much to the remarkable Hereford fan Peter James who had a vision for this Giant-Killers edition.
Through his persistence, diligence and hard work, he metaphorically dropped a ton of contributions into the disbelieving laps of our editorial and design teams here at Talking Bull.
Ronnie Radford. John Motson and so on are constantly tapped up for their recollections, over the decades, supporters are rarely featured. We are putting that right.
Overall the depth and quality of this material would logically lend itself to a book. Time and finance are barriers too big to overcome so a limited edition collectors issue is the next best way to preserve such key social history for future generations.
It covers the WHOLE OF THE FA CUP RUN of 1971/72 with content from over 60 supporters, and provides a unique insight into a special period. This collectors edition costs £5 for a printed copy, or just £2.99 for a digital version.
The digital version of the edition is available now via our on-line store:
DIGITAL COPY – GIANT-KILLERS – ISSUE 133 (talkingbull.org)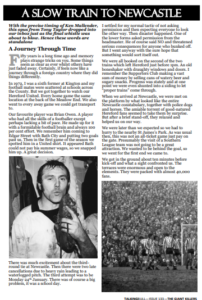 Copies of the £5 printed collectors edition will first go on-sale at the Giant-Killers 50th Anniversary reunion at Leominster Sports & Social Club on Friday, 4th February when an evening of nostalgia will look back at the FA Cup run. Providing there are any copies left the remainder will be available to buy prior to the Boston United match at Edgar Street. Watch out – and listen out – for our voluntary sales team.
If you are unable to get to Edgar Street on Saturday, you can secure a pristine copy right now, and have it delivered straight to your letter box at home. 
A PRINTED COPY – GIANT-KILLERS – ISSUE 133 (talkingbull.org)
And just a reminder, if you are happy to receive a copy electronically, which thus saves you postage and packing, and gives you the choice of reading the edition off-screen, you can purchase a copy at any time for just £2.99.
You can even print the issue off at home.
All proceeds benefit Hereford FC through official match-sponsorship, or via the 'Boost the Budget' initiative.