Hereford return to action on Saturday when they face the Guiseley Lions at Edgar Street. Not that there are many lions in West Yorkshire, whereas you just might find a Hereford bull in a field around here. Mind you there haven't been too many charging bulls anywhere near Edgar Street lately. 
Indeed, the Bulls have not won in 12 matches in all competitions, but will be hoping to maintain their record of only losing once in the league at Edgar Street this season.
Guiseley AFC
So, Hereford v Guiseley goes ahead on the last Saturday before Christmas. A day when there are so many other things to do and places to go. With all respect to our visitors, Guiseley are not likely to have people dashing to the Street in excitement. Ahh, Guiseley, Not exactly a town with the biggest reputation. When a place is best known for glove puppets and traditionally cooked chips, there is definitely room for a new headline maker. Particularly when the chip maker and puppet lover are part of the same family. Harry Corbett is the nephew of Harry Ramsdens. Not a lot of people know that.
Prior to our visit to this modest Leeds suburb, I spoke at some length about how Hereford needed to be aware of their new striker Aaron Martin. He and fellow prolific forward Johnson both moved up from Brighouse after Brig were denied promotion after winning the Play-Offs. He needs to be watched, said I. Our squad certainly watched him. Watched as he scored a hat trick as Guiseley cantered to an easy win. 28-year-old Martin was the second top scorer in Step 2 by mid-November – that is North and South but let's just ignore him. That might be a more successful tactic than watching the player.
Since that victory, the Lions have found wins hard to come by. The striker who we are now ignoring was sent off for a headbutt at Gloucester which didn't help his cause, nor that of his club for whom he's scored half their goals. The rest are spread pretty thinly.
One slightly better-known player is Paris-born central defender Hamza Bencherif. He's 31 and 6 foot 3 tall and has 10 caps for the Algerian U20 side. Predictably, he's been around the circuit a bit with 400 games, split between 10 clubs. He's the man dishing out the orders to his team mates. He has the curious habit of brushing his teeth before every game. Meanwhile, their Sheffield United on-loan goalkeeper Marcus Dewhurst  was called up for England U19's so they can have a butchers at him.
Guiseley's away record is similar to our own with a trio of victories. They won 5-0 early season at Bradford with Brackets, also beat Blyth early doors and more surprisingly.. won 3-2 recently at Gateshead. The Heed are a form team who don't concede many goals. Guiseley have lost several times on the road, as have we but Play-Off ambitions continue for both clubs. As I said before, sides have lost 13, 15 and even 16 League matches in this Division and still qualify to extend the season a little longer.
As we know from our United days, Play-Offs are not always good for your health. Our visitors made the Step 2 Play-offs in 2011, 2012, 2013 and 2014. They lost a Play-Off Final in the last minute of extra time. Twice. I was at both games and even as a neutral, I felt their wretchedness. Mark Bower, who's better known these days as Bradford with Brackets Gaffer, finally got them up.
But do be careful what you wish for. Having spent so many years trying to secure promotion, the Lions had two miserable years in the Non-League top flight. Not only were they relegated, they ended up with horribly big debts too as they chased their dream. Fortunately, the Lions claim to have dealt with their debts. No public explanation as to how.
Logically, the presence of three millionaires on the Board had much to do with their improved status. Steve Parkin who seems rather like a Northern version of Alan Sugar, owns Clipper Logistics, a huge transport operation in Leeds. Parkin was a Guiseley player in the 1980s. John Gill is Chairman of Good Skin Days.. yep, new to me as well. It's a laser skin-care business apparently. The third member of the trio is Gary Douglas who is behind a Renewable Energy company. The wealthy trio have made donations since at least 2006. Interesting quote from Steve Parkin in 2006 "we will be the richest club in Non-League – and probably richer than some League clubs. It's all about having a plan in place. On the football front, we've got to target Conference football within three years."  Not the most accurate of predictions…
Guiseley are Johnny Come Latelies in terms of status. The Yorkshire side were completely unknown outside their county until the late 1980's when Cup runs enhanced their status. In successive years, Guiseley reached the FA Vase Quarter Final, Semi-Final and Final which they won after a replay. The following year they reached the Vase Final again, only to lose. Such a run of success builds pride, support and a healthy bank balance. All of which contributed to Guiseley moving up through the Leagues.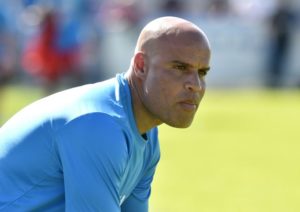 This season's squad have joint managers in charge. They have shared the hotseat (is it one cheek each on that seat?) since March 2018 so they are comparative veterans. They are on contract until the end of the season. Russ O'Neill was No 2 at Alfreton for a decade.  His partner is Birmingham City loving Marcus Bignot. There is a cure. Marcus played 600 games, mainly in the Football League before turning to management and is now in his sixth job. He is best known for getting Solihull Moors into the Non-League top-flight and for stimulating the Birmingham City Ladies club. His day job is running a football Academy at Solihull College.,, and signing up their better players for Guiseley.
So there you go. Hereford v Guiseley. Last Saturday before Christmas. Be there if you can.
Simon Wright