After a much improved performance against Farsley Celtic yesterday, when Hereford were denied victory in controversial circumstances, the Bulls now face the bookmakers favourites for title – York City – at Edgar Street on Tuesday evening.
York arrive at Edgar Street for a night game having turned down a perfectly reasonable request to switch the game to Saturday 14th December after both clubs were beaten in the FA Trophy. It was anticipated that York City fans would have welcomed the opportunity to travel to Hereford on a Saturday than for a midweek game – but the City officials have denied them that chance. Bizarre!
York City
We welcome the promotion favourites to Edgar Street, visitors who are one of the few full-time professional clubs in our Division. They have the most impressive footballing CV of any club in our League. with two seasons in what is now the Championship. City also reached the FA Cup Semi-Final and can boast a total of 5 Wembley appearances, only losing once.
But along the way, they've had a lot of hard times. In 2016, they dropped out of the Football League, only four years after getting back into it and went on to compound that by dropping into National League North one year later.
It seems City are finally turning their juggernaut around after those years of painful struggle and heavy loss-making. For the third season in a row, they've thrown money they haven't got at promotion and this time it might pay off. The previous two years, they finished eleventh and twelve in our League, despite heavy spending. Getting out of this League upwards as Stockport and Chorley will confirm is very tough.
The heavy outgoings have created collateral damage with York forced to sell their edge of city centre ground and move to an out of town rental, partly to clear debts now well over £5.5 million. I wonder whether they are financially ready for promotion?
Incidentally, Monks Cross, already heavily delayed, won't be opening until early 2020 at very earliest and so the whole season may be played out at Bootham Crescent. As one supporter noted "we've already had 6 "last-ever" matches under the lights."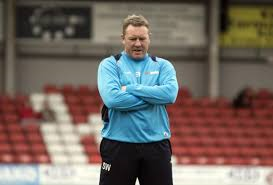 Now into his second job in charge, manager Steve Watson seems to be doing or saying all the right things. Prior to 2016, he had zero knowledge of Non-League football as he'd only played in the Premier League or Championship. Clearly, he is a fast learner. I've seen him play 20-30 times and observed various interviews and he appears hard-working, knowledgeable and articulate.
Geordie Watson bailed out of the sinking ship HMS Gateshead in January to take over York, even though they were a Division lower. Like every gaffer joining mid-term, he was mainly limited to loan signings to get through the season. In the summer, he moved on a lot of players and brought in another batch. Among them were several battle-scarred warriors including 33-year-old central midfielder Andy Bond, with nearly 600 appearances behind him in Divisions ranging from League One to Step Two.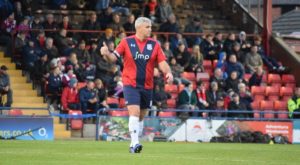 Then there's the well-rounded figure of Scouser Steve McNulty (36), signed from League Two Tranmere.   He has an unlikely-looking footballing physique. McNulty gets stick everywhere he goes, though from a safe distance. The Liverpudlian is a leader and a winner. He has secured 6 promotions split between 4 clubs and he captained every side. The central defender spent 13 years with the Liverpool FC Academy which explains why he is surprisingly adept at passing.
City also dived into the distressed stock sale at Blyth, dangling their full-time football carrot. They grabbed goalkeeper Peter Jamieson, full back Kieran Green and goalscorer Dan Maguire. Admittedly, Maguire's contribution so far is limited as he missed two months due to a knee injury.
However, not all the Minstermen are imported as the squad includes 5 home-grown players. York City even have a squad member called York – Wes York – but to save any confusion, he's been loaned out.
As far as I can tell, the top National League North goal scorers can only have first names starting with a J or an A. The only exception allowed is old stager Glenn Taylor from Spennymoor. City seemed aware of the new rule with their top men being A for Alex Kempster and J for Jordan Burrow. Nether are regular scorers but they don't need to be with such a mean defence.
Their assistant manager has recently warned "the opposition are working us out and our threats and dangers, so we've got to find out another way." York played 3-5-2 in their first dozen games though when McNally was briefly out injured, they reverted to 4-4-2 in some games.
On the road City have:
Beaten Altrincham (3-1) Blyth (3-0), Spennymoor (4-1), Gloucester (3-2), Darlington (2-0) and Chester (1-0). The win on Chester's Welsh turf felt very significant.
The Minstermen have also drawn with Guiseley (0-0) and Telford (1-1) but finally lost in their last away match (0-1) at Curzon Ashton.
Just to emphasise the point this team know what they are doing, they also won away twice in the FA Cup at Irlam and Buxton before a defeat to Altrincham.
More positively, both Hereford FC and Hereford United have a decent record against City. Neither version of the Bulls has lost to City this century. Last season's fixture finished 1-1 with McGrath's long-range equaliser earning a point. The return fixture ended up as a midweek marathon but with a happy outcome. Waite and Greenslade found the net in a 2-1 win with former Bull Adam Bartlett doing his best to help his old club from his position in York's goal.
Let's hope the officials are also up to the challenge on Tuesday after the abysmal decision making we witnessed yesterday against Farsley Celtic.
Simon Wright