Following the Bulls third home win-in-a-row thanks to Jordan Nicholson's stunning strike against Kettering, Hereford now face Leamington at the New Windmill Ground on Tuesday night.
The re-scheduled match is necessary after the original game was postponed due the "Hereford 3" being on international duty a couple of weeks ago.
Leamington drew 3-3 at Chester on Saturday in a roller-coaster of a match at the Deva Stadium, and on another occasion may have done enough to have picked up all three points. That result against a very well organised Chester side ought to give the Brakes some confidence going into the clash with Hereford.
Simon Wright takes a look ahead to Tuesday evening.
Can Hereford repeat the 2-1 win the Bulls enjoyed at the ground just over a year ago?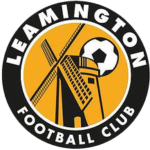 Leamington FC
The Brakes shuddered to a halt in 13th spot last season, five points ahead of the Bulls. They were heavily reliant on the goals of Matt Stenson (remember his outstanding game at the Street?) and latterly Colby Bishop, both of which have moved upwards. Also making an emergency exit from the Brakes is ex Bull James Bowen who is now with Halesowen Town in Step 4 and looking in good form.
Leamington's visit to The Street in August 2018 was their first ever. The Bulls won 2-1 thanks to Jamie Bird's finest career moment, a long-range thunderbolt very late in the game. Hereford FC were at that time riding high in the table. As we all remember, events went quickly downhill from then on. The return match was drawn with Hereford looking good for a win until James Waite was sent off. The Brakes scored a late penalty to finish 2-2.
As a business, Leamington FC are arguably more stable than most other clubs in the Division. They recorded small losses in recent years which the directors cover while they have the immense security of owning their own ground. The last Board change was five years ago with the majority having serving for over a decade. The last managerial change was over 10 years ago.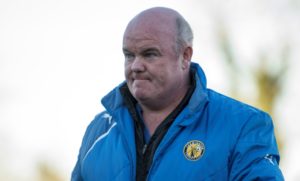 Manager Paul Holleran reached a personal milestone of 500 games in charge of the Brakes in August this year. Prior to joining the Warwickshire club, he managed Halesowen, Rushall and Sutton Coldfield. Holleran accepts Leam are a Step 3 club punching above their weight but points out that their last five strikers at the club are all now in full time football, players like last season's top scorer Colby Bishop, enjoying a 3-year deal at Accrington. Holleran has 3 coaches to support him.
All Holleran's seven summer signings are in their early 20's, mainly added from clubs lower down the Pyramid. The Brakes shop in the "potential" market, players such as Ravi Shamshi who played against Hereford for Banbury United in years gone by or Gift Mussa from Step 5 Coventry United. Their best-known signing is Josh March from Alvechurch who served for four years at Lye Meadow scoring 81 times. Surprising that Ian Long didn't take him to Stourbridge. He is the Brakes standout player and top scorer with 7 goals in 10 games. I wonder whether March, who lives in Halesowen, was ever on Hereford's radar.
Leamington have three victories already at home. 3-0 v Kettering, 2-0 v Blyth and their third was a 2-0 over Brackley, who admitted they couldn't deal with the Brakes aerial threat. Overall their home record is 10 points out of 15 (a 1-1 draw with Curzon and a surprising 3-0 defeat by Farsley) scoring 8 times (March with six) and conceding five.
No use to us for our October midweeker visit but Leamington have conceded goals in their last 20 consecutive away League games, not least the 5-0 thumping by Alty in early September.
The Leam regular back four have played nearly 900 times for the Brakes between them. James Mace has made over 300 Brakes appearances and Jamie Hood aka Hoody is approaching 300 You won't miss Hoody, big bloke with red hair. Midfielder Jack Edwards, who scored in both games against the Bulls, is another veteran with 230+ games for Holleran's side. In contrast, all their 3 strikers are recent recruits. Loanee Jacob Murphy found the net once on the opening day and Kaiman Anderson hasn't scored at all.
This isn't the most appealing location for a midweek trip, other than it is our fourth shortest away trip. The Phillips 66 Community Stadium is in the middle of nowhere, off the narrow Harbury Lane, three miles from central Leamington. There are no refreshment venues within 2 miles and due to segregation, there is no access to the club bar. All our facilities will be mobile ones.
Due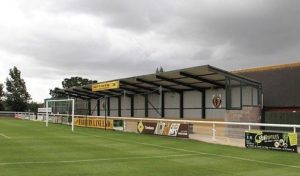 to segregation, our support is housed on the open North Bank terrace, via an entrance which is geographically obscure. There is a token offering of seats – 50 in all – with priority going to the elderly or infirm. Contrast that with the 10 seats each on offer when Leamington pay their return visit. With their average attendance of just over 500 and a dog filling only a fifth of their stadium, seems OTT to ration seats. Expect to pay Adult £13, Over 60's £9, Students (with relevant ID) £6, Under 16's £3 and Under 12's and dogs are free. Quite serious about the dog. He's a black and white mongrel called Jack who is a regular attender at the ground.
Car parking is free and well organised. However, once the 350 capacity is reached, parking is a mile away and requires the use of a bus to move to and fro as there are no pavements to use.  Leamington have plans to relocate though these remain several years away.
Getting There
By Road: 142 miles (CV33 9RN). Leave M40 at J13 follow A452 towards Leamington. Cross a small roundabout and at the next take 2nd exit (signposted Leamington A452/Heathcote Industrial Estate). Take 4th exit at next roundabout (sp Bishop's Tachbrook/Harbury). Straight across the traffic lights proceeding towards Harbury. After 1.5 miles, ground on your left.
By Rail: Hopeless from the Shire though London Bulls predictably have a choice of 5 trains. The train station is three miles from the ground.
By Coach: Visit Hereford Awaydays Facebook page for details. Reg is organising a full-size exec coach. £15 per adult seat.