Following the Bulls remarkable FA Cup victory over Bromley last Saturday, the Bulls return to National League North action at the Horsfall Stadium Bradford.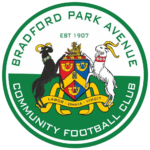 Sometimes there is very little to say about such regular opponents. Up to the end of last season the Brackets were on the list of clubs we could not beat. Our late-term 3-2 victory at the Street laid that bogey with the Yorkshiremen looking like a team going through the motions. Despite the score, the game was never that close.
The next bogey to lay is a victory at Bradford and also to win a competitive league game on a plastic pitch for the first time since Redditch in Step 3. Given Bradford's awful start to the season – losing their first four League home games and being knocked out of the FA Cup by a Step 5 side – we will surely never have a better chance to knock over the basement club. That would mean winning on plastic twice in a row!
Given the lack of patience generally at this level, it is surprising that Mark Bower is still in charge. Or maybe not – just a realistic view no-one can do more with the limited tools in his box. Bower has stuck around for over 2,000 days, that's veteran status in Step 2.
During covid, Park Avenue secured a 35-year lease on the stadium, installed a 3G pitch and improved their perimeter fencing and bar facilities. The money was loaned to them by the majority shareholder Gareth Roberts. He's now effectively handed over the club to the people of Bradford with the aim of it becoming self-sufficient. BPA is run as a CIC social enterprise which means if the club ever closes, sale of any assets would benefit the local community, not the club benefactor. Highly worthy but those assets are probably limited to bar stock and furniture.
BPA are making monies from renting the pitch out every night which is fortunate because they owe Roberts over £2 million in total. The 2021 balance sheet shows an alarming deficit of £1.7 million. The Texas oil man is not pushing for a quick payback even though the loan "stretched him to the limit." Quite how such a huge sum will ever be repaid isn't clear. Roberts is nearly 70 years old and lives in the USA. Family fortunes could change quickly.
Obviously, the fixture planners were not to know but seven of PA's first nine games were against clubs in the top eight. That's the best justification their media team can offer for a dismal start. PA just don't score goals or win games or rather they didn't until the last five minutes against Curzon when yet another home 0-1 score was transformed into a 2-1.
Remarkably there are no Ex-Bulls in Bradford's ranks (is that legal?) so I will highlight a couple of standouts. Last season's top scorer was Brad Dockerty with 10 goals. Armed with a shiny new agent, he got a move to Alfreton. You may recall he was an unused sub against Hereford, which proved to be his regular position. The move didn't work out at all, presumably he was neither tall enough or manic enough so perhaps surprisingly, hard up Park Avenue paid a fee to get him back.
Will Longbottom is a cracking name for a striker for a Yorkshire club. Mr Lengthy Derriere is aged 23, with five clubs behind him including Kiddy and Halesowen on loan. But he has only scored three senior goals, that's in total goals. One of those was in 2016. And we thought Miles Storey was having a dry patch.
It's worth highlighting the imaginative attempts the club have made to persuade people through the door. £50 buys a multi-match season ticket, effectively a discount card which permits entry for £7 adults or £5 concession per game. Over a season that's just over £210 (adults) or £165 (seniors) to sit or stand. Or for £1,000 you could be an associate director which covers admission and hospitality both home and away plus away travel on the team coach. That's quite a deal for a fanatic. There are tempting options for youth, students, adult season ticket with hospitality and so on. Despite their wretched start, gates average around 600. Given that they've lost York and Guiseley their two biggest attendances last season, easy to see those numbers dropping fast. Park Avenue hope to stay in our league and that's the extent of their (realistic) ambition. They need dogged, stoic supporters and those are in short supply.
For our visit, admission is £14 adults, £10 concessions and there's no segregation as usual. If you've not been before, the real ale is excellent and their old programme shop is a wonder to behold. Be aware the Horsfall Stadium is effectively a one-sided ground on a very exposed site.
Official away travel arrangements are in place and can be booked as follows:
Away Travel – Bradford Park Avenue (ticketco.events)
See you there?
Simon Wright