Hereford secured another welcome three points at promotion seeking Spennymoor Town with a 2-0 victory, watched by the Talking Bull co-editor Simon Wright. Here are his thoughts from the Brewery Field.
I'd literally scouted the opposition myself, and with astute supporting info from Northern correspondent Ian Sandford, I genuinely expected a positive result. Spennymoor felt spent with only two points out of 15. Just five games ago as we battled at FC United, the County Durham side were at nearby Edgeley Park. A win would put them top. They lost narrowly and have slipped backwards since.
But let's get this day in order. Being an exile, Spennymoor is just the odd 200 miles away and thankfully the run was straightforward. We got to the ground to find a Police vehicle largely obscuring the car park entrance. Thanks guys. A 10 point turn got me into the scruffy yard – sorry even Spenny would admit to that – which was to cram in all of ten vehicles, nose to tail.
From there, we hastened to the Moor Tavern, basically a street away. Its described as the "clubhouse" even though its really a popular local pub.
All round good guy Tony Taylor lurked here. Joanie Roberts buzzed around in a highly onomatopoeic manner. Good to see various members of Reg's weary crew, still grinning after endless minibus bouncing. And what a great vibe. To a person, Spenny supporters were welcoming, friendly and curious. Beer was decent and the catering van outside simply magnificent. 'Er Indoors is a connoisseur of bacon butties, In a spirit of devilment, I bought her the largest variety on offer absolutely stuffed with bacon. She gallantly chewed and chewed and exclaimed and exclaimed before presenting me with the leftovers. The Tavern was a proper football pub, one we dream about and rarely get. I've seen few this good even in the higher echelons of the Football League.
In the reasonably priced ground, a new one for both of us. So small and underdeveloped, this felt like a step 3 or even 4 venue. Hard to imagine where this hemmed in little place will have 2,000 extra places added this summer without major protests from the overlooking houses. Without the lavish backing of their Chief Exec, Step 3 or 4 is where Spenny would surely be.
Must give a shout out to Alan Poole, a 30 year vet from Wiggins, now living a few miles from Spenny. He persuaded his son and 3 friends to boost the exile numbers. Alan keeps in touch via the Radio Hereford app. He admitted to also supporting Nottingham Forest. Supporting two clubs, who'd want to do that?
Exchanged a few pleasantries with our Board, who'd rolled up en masse. Just a suggestion here. If you ask them a sensible question in a mature way, they are happy to converse. Just an observation for those with a "beef."
I was concerned that with a debutant striker, a defender playing his second game and another his third that our team would lack cohesion. Not so. Must have been one heck of a bonding session in their hotel last night. Our boys passed the ball around with no little panache at times, though there was some early confusion. Spenny had a series of gilt edged chances to score. Diamond and Chandler were 2 on 1 with the head-scratching Yates ("never covered this in training?") before Diamond mysteriously lobbed over the bar. It was a shocking miss. League top scorer Taylor eased free at a corner and headed over. Then Hickman astonishingly headed off the line when the goal was already being celebrated.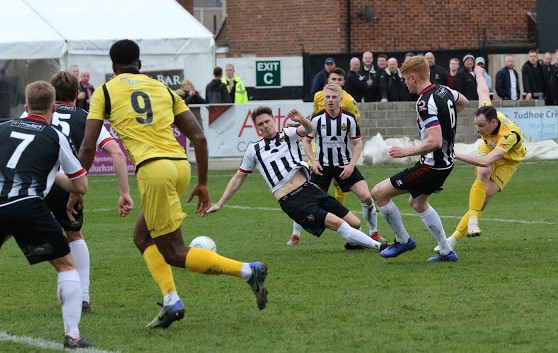 Suddenly, dramatically and yes against the run of play, Hereford scored – eventually after several shots. With that dramatic Lance Smith moment, the game turned. TOE added a second from the spot after a clumsy challenge and, from then on, Hereford were in charge as the Moors floundered. Incidentally, TOE is very close to being a double figure goalscorer, a feat achieved by only 20 or so players in this very tight League.
This was a team effort, high on work rate, maintaining shape and finding the right pass. Every player deserves praise but I must single out a few such as the all-round neatness of Hickman (who took the shine off Diamond), the remarkable energy of Greenslade and Mr Last Gasp Tackle Liburd. Semi-namesake Rowan put in a shift, not so subtly emphasising that his talents are on the grass, not in the air. The aerial stuff belongs to Symo who was comically treble marked in the later stages. Not so comical for our big man who no doubt has bruises with added bruises, a headache and a tugged out of shape shirt to celebrate the new month.
I don't think I've been so relaxed during the second half of any Hereford match this season though I did fear a repeat of Darlo. Thankfully, no parking the bus. Bravely, our guys played two up front in the second half, a move which restricted their back four from attacking duties. Our players were quicker, had more know-how and more energy than their opponents. We're still unbeaten away since January 1st beating clubs who are in 13th, 11th and now 5th spot along the way. Reasons to be cheerful.
Despite their disappointment, Spennymoor supporters and officials offered congratulations and wished us a safe journey home. Class.
Simon Wright
Images courtesy of Graham Goodwin, Bulls News