Our very own Hereford Hophead, Ian Mann, has cast his eye over our next destination – Darlington – and is delighted to report the town is a real ale Mecca with a host of CAMRA listed pubs. Indeed, many have been "in the bible" for years.
He says it may be a long old haul up the country but could be worth your while making a weekend of it.
Bloody hell, the last month at Edgar Street has seen more shenanigans than the Brexit negotiations, and most supporters are probably in need of a stiff drink. The first opportunity of doing so on the road will come at Darlington on Saturday, 17 November.
DARLINGTON
These days Darlo is a bit of a real ale Mecca with no fewer than seven Good Beer Guide listed pubs, many of which have been in the 'bible' for years.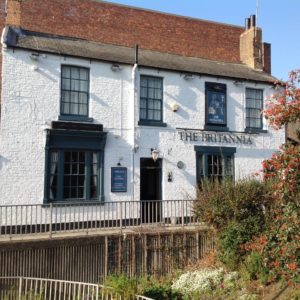 The Britannia at 1 Archer Street, DL3 6LR is a terraced local serving Cameron's Strongarm, John Smith's Bitter, three changing guest beers and guest cider. Recent Tripadvisor reviews speak glowingly about the quality of the beers and the friendliness of the pub. It all sounds well worth a visit.
The Half Moon at 130 Northgate, DL1 1QS attracts similarly favourable comments. It is the home of the Crafty Pint 'nano-brewery' and stocks their products alongside those of other micros, some of them unusual for the area. The pub serves seven changing beers plus real cider and again is a drinker's pub. It also houses the Crafty Pint bottle shop if you want to take a taste of the North East home with you.
Number Twenty 2 at 22 Coniscliffe Road has been in the GBG for years and is a frequent award winner. There are a mind boggling sixteen hand-pumps and the beers include those of the in-house Village Brewery, another nano-brewery, and one that also produces its own vodka and gin. Real cider is also available and lunchtime food may be available, although this is again primarily a drinking establishment. Again, reviews are almost wholly favourable. Sounds like another gem.
The Quakerhouse at 2 Mechanics Yard, DL3 7QF is situated down an alleyway just off High Row. It sounds well worth searching out for its range of ten changing beers plus three real ciders and sounds full of character. Reviews suggest that the quality of the ale is consistently good.
If you're looking to eat try the Old Yard Tapas Bar at 98 Bondgate, DL3 7JY. Akin to a Mediterranean taverna the place serves a mix of Spanish and Greek foods but also offers Theakston's Old Peculier plus five changing guest beers sourced countrywide but often from local micros. This is more of a restaurant than a pub so you may need to book. Website is www.tapasbar.co.uk and telephone number 01325 467385.
Darlington also has a Wetherspoons, Tanners Hall at 63-64 Skinnergate, DL3 7LL. It actually makes it into the GBG which suggests that it is one of the better examples of the chain with twelve hand-pumps and a 20% discount on food for CAMRA members.
It's a long old haul to Darlington but the quality and variety of the beer on offer suggests that it might be well worth your while.
Enjoy!
Ian Mann