Hereford make the relatively short trip to Nuneaton tonight for their first away game in the Vanarama National League North, and Simon Wright looks ahead to what could be an intriguing encounter.
I read some grim stories about Nuneaton over the summer and was fairly convinced they wouldn't survive but they did and even reverted back to their original name of Nuneaton Borough.  Not that you would know from checking their website.
The saving grace was Port Vale's Chairman Smurthwaite, buying the ground to add to his £120 million property portfolio.  I have to assume his reasons were philanthropic.
So, the club continues but have suffered as a consequence of all that uncertainty.
Firstly, the electricity continues to be cut off and won't be restored for months. In the meantime, Borough are getting by with a generator.
Season sales tickets started on July 4.   Virtually every other club has almost finished theirs and banked the cash.  Perhaps Nuneaton are being pragmatic. They simply won't sell very many.  Ditto their club shirts, not in sale until late last month.
Their previous manager Charles claims he was sacked by Twitter.
The new manager Nicky Eaden, a decent defensive footballer back in the day with Barnsley and the Bluenoses is the new gaffer.  Since the ground sale, he's been very busily adding to his squad in a kid-in-a-sweetshop sort of way, a squad who remain full time.  Not sure how when their average gate was 617 last season.  Player wages must be very modest.  Interesting comments from Nuneaton supporters who felt disenfranchised when the club went full-time.  Supporters could no longer relate to the players.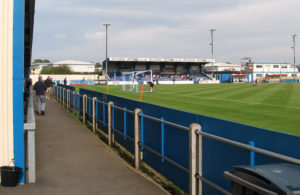 Liberty Way will be familiar to our regulars as United played a National League game there just a few years back.  Those that went will remember the metal floor for the visitors terrace. Believe its still there, though bearing the snappy title of Loans to Go Stand.
There's normally 50 seats offered to visitors in the solitary stand.  Admission prices are £12 adults, £10 concessions (an Id card scheme applies here so visitors may end paying adult prices. For kids, the standard £3 for U16's. Seats £2 extra.
There is a club car park (£2) but street parking around the industrial estate is free and makes for a far quicker exit.
The ground is part of an industrial estate and is frankly not too exciting. "Rather bland" as one grounds website had it or "prefabricated crap" according to an aggrieved Blyth Spartans supporter.  It's really down to where you've come from. We still remember Highgate with a shudder… after that, Nuneaton feels luxurious.
Certain big games apart, visitors are permitted into the clubhouse. It's said to be large but does lack real ale.  The rugby clubhouse next door will admit visitors and are glad to do so as part of their ongoing feud with Borough. Infamously, the football clubs' access was partly blocked by skips this summer.
All the nearest pubs are owned by Marstons, all serving the same house beer. East choice is the Crows Nest which you will pass on the way in.
Nuneaton supporters believe their club will have a rotten season. Their first game was fairly unimpressive, a goalless at Ashton United, who are bookies favourites for the drop. Very recent loanee signing goalkeeper Gray was sent off near the end though Borough do have other keepers to call upon
From our perspective I think we need to exploit their uncertainty and really go at Nuneaton.
See you there?