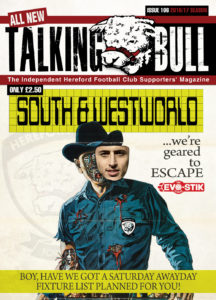 The latest issue of Talking Bull, the Independent Hereford Football Club Supporters' Magazine, will be on sale for the first time at Edgar Street on Saturday 22 October 2016, ahead of the home Southern League South & West match against Didcot Town.
Issue 106 is packed with content, and here's a little taster of what's on offer as we consider whether the Bulls are geared to escape from the South & West World…
EDITORIAL
STEVE JENKINS INTERVIEW
THE FOOTBALL GAME
THE 'WHOLE GAME SOLUTION' – A PRACTICAL GUIDE FOR DUMMIES
ULTIMATE SHOOT-OUT
THE INSIDER
CLUB & COUNCIL – HAND IN HAND
THE MATCH I DID NOT WANT TO ATTEND
TALKING BULL LETTERS
HEREFORD FC's TOUGHEST OPPONENT
MY FAVOURITE PHOTO
SIX OF THE BEST HEREFORD GAMES
WHY ALVECHURCH SHOULD NOT BE PROMOTED
ARE YOU WATCHING ENGLAND?
FAME AT LAST
ADMIRE OUR SUPPORTERS' PATIENCE
40 YEARS AGO – CHAMPIONS
GOOD PUB GUIDE – NOVEMBER & DECEMBER
WE'RE ON THE WAY TO SOMEWHERE – AWAY GUIDES
REGIONALISATION – THE WAY FORWARD?
Talking Bull retails at £2.50 but if you are unable to visit Edgar Street or watch Hereford 'away' games, why not consider subscribing.
Our postal subscription rates are split geographically into 3 seperate categories; UK, European and Rest of the World.
Talking Bull subscriptions are based on an eight-issue cycle, however you will be advised prior to this period ending in order that you can renew.
Please state at the checkout which issue you'd like your subscription to start from and whether it is a new subscription or a re-subscription. Once you have signed up you will receive a reminder when your subscription is about to expire.
You will also need to include your full name, address and post-code when taking out an online subscription for a printed edition.
Once activated TB subscriptions are non refundable.
The cover price of a printed version is £2.50 with the magazine being sold inside and outside the ground on match days, with additional stocks being made available via the club shop.
Additional stockists across the county of Herefordshire include FIT retailers, 43 Widemarsh Street, Hereford, and the Club Sport store in South Street, Leominster.
Please get in touch with us if your business would like to stock the best fanzine in the West Midlands via our email address: editor@talkingbull.org
Subscriptions are available NOW via our online shop Click here to subscribe to Talking Bull