Wow! A victory at the LNER Community Stadium in York. Who saw that coming? Wasn't it great seeing Maziar Kouhyar starting the match.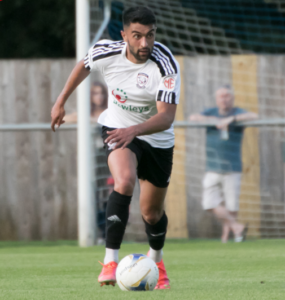 Josh Gowling has been quick to praise Maziar for the impact he has made when utilised off the substitutes bench but for me he should be one of the first names in the starting line up.
9 games in, 3 losses, 4 defeats and now two victories. Prior to the arrival of Levi Andoh and Reiss McNally much has been made about the Bulls inability to defend basic attacking play, while little is said about the difficulty Hereford are having sticking the ball in the net. In those 9 games, we have scored 10 goals, a figure which is somewhat anomalous in that 4 of those were scored against 10-man-Lymington who are five from the bottom of the Southern League Division One (South). Could a regular starting berth for Maziar Kouhyar, our Afghanistan International no less, be the key to unlock opposition defences this season?
We saw little of him at the back end of last season as Josh Gowling added him to the squad at the back end of March, though he showed touches in the Trophy Final to suggest that he had ability. With a full pre-season and some assimilation with the squad, Kouhyar produced some flashy displays in pre-season, showing excellent control in the run-out against Shrewsbury Town at Edgar Street in particular.
For many, he would have been a nailed-on starter for the first league game, but management saw it differently, and Kouhyar was left come on as a second half substitute. This trend has continued thus far, with snippets from Gowling suggesting that he see Maz as 'an impact player' as opposed to a regular starter. Well, he certainly made an impact on Saturday against Leamington as an early substitute for the injured (and thankfully recovering) Luke Haines.
From the moment Hereford kicked into gear in the second half, the tricky midfielder seemed to be at the centre of everything positive the whites did. Whatever 'it' is at this level, he certainly seems to have 'it'. This was the first time we have seen him deployed in a central midfield role, as opposed to 'in the hole' or out wide, and it suited him. He is assured in possession, perhaps more so than anyone Hereford have come across at this level, and just seems to always make the correct decision on the ball. While Kouhyar is not the biggest player on the pitch (hardly surprising given that National League North players would seem to be fairly interchangeable with Rugby League counterparts) he gets in such excellent positions between the ball is his opponent that he invariably retains possession or wins a free-kick.
On top of such quality, there has also been some tangible return to be shown in his previous two appearances. The aforementioned Lymington were first victims as he neatly cut inside and fired past their keeper, though said keeper will have been disappointed to have been beaten at the near post. Then, on Saturday against Leamington, he produced a cross of real quality on Saturday for Dan Smith to head home to level up the scores.
It is beginning to get to the point where Bulls' supporters will be wondering exactly what Kouhyar has to do to regain his place in the starting line up and then retain it rather than being the sacrificial lamb after a disappointing result.
Come on Josh. Now is the time.
By Nick Evans